Who said toasties can't be schmancy?! Our top Wine & Toastie matches are here
The Ultimate 6Ft6 Guide to Wine and Toastie Pairings
[aka: jaffle, toasted sangwich, sanga]
When the mercury drops, sometimes your dinner making motivation heads south right along with it.  So is there anything easier to whip up on a Friday night after a long week other than a Toastie? We don't think so!
Look, anyone can make a toasted sandwich or jaffle.  All you need is some bread, cheese and some sort of toasting device, and you're good to go.  And what's better that a bit of melted cheese between slices of crunchy, buttery bread?
A bit of melted cheese between slices of crunchy, buttery bread with a perfectly paired wine – that's what.
If you're looking to make your next toasted sanga feast a little more… adult – check out these carefully selected wine and toasted sandwich pairings to really take your toasties to the next level.
Try a Bolognese Jaffle with a glass of 6Ft6 Shiraz
If you have a Jaffle maker, you know what we're talking about.  A bit of leftover Bolognese sauce, a handful of shaved parmesan, a good twist of cracked salt.  Yes please.
With a proper Bolognese, you need the lively freshness and acidity in our 6Ft6 Shiraz to cut through the richness of the sauce, allowing a burst of red, ripe juicy fruit to shine through.
Bonus Tip: This works just as well with a Vegan Bolognese. Try our friends', Shane & Adele's Vegan Spag Bol recipe here. 
Feast on a Grilled BBQ Roast Lamb Toastie with your 6Ft6 Pinot Noir
Another killer leftover combo, if you've only got one serve of last night's roast left, stretch it out by toastifying!  Grab your lamb (and any veggies you've got leftover!), add a good wallop of BBQ sauce and a chunk of cheddar.  Use that bread you've had in the freezer for a month, give it a good slathering with butter and grill this baby in a pan until the bread is golden and the cheese is oozing out the sides.
To level up – pinot noir and lamb are a perfect match because the acidity and bright fruit notes in our 6Ft6 Pinot act as a nice foil for the earthy richness in the lamb.
Get a little fancy with a Chicken & Mango Salsa Fougasse paired with the 6Ft6 Rosé
Before we lose you – Fougasse is just the Provençal (home of Rosé!) version of Focaccia!  Just give it a light toasting and serve open with grilled chicken and a quick mango salsa (mix up some chopped mango, jalapenos, chopped coriander and fresh squeezed lime juice).  Who said toasties can't be schmancy??
The bright, fresh flavours of the mango salsa are nicely matched by our refreshingly clean, dry and delicate 6Ft6 Rosé with its crunchy melon flavours.
Bonus tip:  For a vegan alternative – either substitute the chicken with your favourite protein, or just skip it entirely.
Keep it basic – pair your Grilled Cheese & Vegemite with a splash of Chardonnay
We're not here to tell you how to suck eggs – you all know how to make grilled cheese and vegemite – but did you know that you can take it from nothing-else-in-the-cupboard-after-school-snack to Sommelier Approved Gourmet Supper with no more effort than pouring yourself a glass 6Ft6 Chardonnay?  For realz, this one's worth pulling out the "good china" for.
The combo of green apple like acidity and pungent leesy flavours in our Chardy somehow manage to match and contrast with the yeasty vegemite and fatty cheesiness note for note.  This one might just be the holy grail of Champagne taste on a beer budget toastie matching.
If you want to get super schmancy, take a note from our friends at Toasta who side their Vegemite and fried egg toastie with some fresh guacamole – holy goacamole!!
Bonus tip: Try with The Vegan Dairy's Aged & Smokey for a plant based alternative.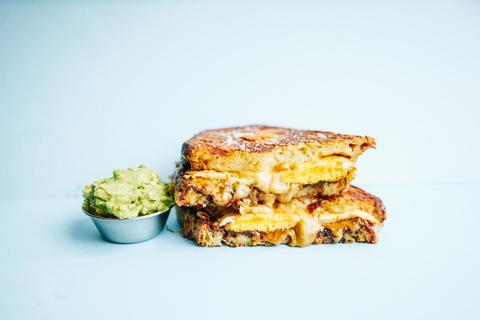 Try a truly decadent 3-Cheese Toastie with a 6Ft6 Pinot Gris
This is still a classic grilled cheese, just not exactly like your Nana used to make!  Try a good quality sharp cheddar, an oozing creamy brie and a light Swiss cheese.  Slather a good quality sourdough with crème fraiche, stack your cheeses, top with a little salt and pepper and pop into the sandwich press for five minutes, or until gooey on the inside!
Wine: try a creamy/tangy 6Ft6 Pinot Gris – with enough depth to stack up against richer styles of food, this fresh aromatic white finishes clean and crisp on the palate and will forever leave you wanting more.
Bonus tip: Experiment with plant-based cheesy combos from The Vegan Dairy for a vegan version
Match your next Tuna Melt with a 6Ft6 Sauvignon Blanc
Good quality tinned tuna, a big dollop of mayo, a slice of cheddar, a sprinkle of chopped pickles and a couple of slices of bread is all you need for a classic tuna melt.
And any wine with a good whack of acidity is going to help cut through that cheesy-fattiness and clean the palate, but for a perfect pairing – the lemon and green apple flavours of our dry 6Ft6 Sauv Blanc go perfectly with the fishiness of tuna and it has that refreshing acidity that just makes you want to dive right in.
Go tres français with a Croque Monsieur paired with our 6Ft6 Prosecco
Brush a couple of slices of sourdough with melted butter, place them on a baking tray and toast one side under a grill until golden.  Turn the bread over and spread each slice with a layer of Dijon, followed by a layer of béchamel.  Cover the sauce with grated gruyère, and then a slice of smoked ham.  Top with the other slice of bread, spread a layer of sauce over the top and sprinkle with more cheese.  Pop back in the oven and bake 10-15 minutes.  Serve with mustard mayo.
The classic wine pairing for a Croque Monsieur is, unsurprisingly, Champagne!  But if you're on a bit more of a beer budget… our 6Ft6 Prosecco brings the bubbles without spending the big bucks. In the words of Katy Perry, this toastie is the tits.
Be warned, the last two vintages have sold out – get your hands on some of this baby before it's all gone!