6Ft6 Chardonnay 2022
$25.00 – $150.00
"You can't buy happiness, but you can buy chardonnay, which is kinda the same"
Complex and refined, with a silky-smooth palate and clean crisp finish, giving you a  sophisticated wine for any occasion. When in doubt, choose a cool-climate chardonnay and you cannot go wrong. 
The nineties are back baby, and that includes chardonnay 
Don a scrunchie, slip into your baggy jeans and sit down for a Friends rerun ('Joey doesn't share food'). But that's where the 90s fun ends, Bridget Jones, because this chardonnay is ultra contemporary, with bright, full flavours. Those 90s tastes were too oaky and unbalanced for our liking. 
This is a fresh, restrained take on chardonnay that deserves a second tasting. Even if you swore you'd never touch a drop, we are convinced our pure taste and aroma will help change your mind. 
If one of our wines was a favourite child, this would be it. It's part of our family and we've put so much love and care into every drop. It's like getting a warm hug for your tastebuds with a perfect balance of texture and flavour that is oh-so-drinkable. 
Hasta, la vista, baby. We're off to enjoy a cool glass of this chardonnay, asap.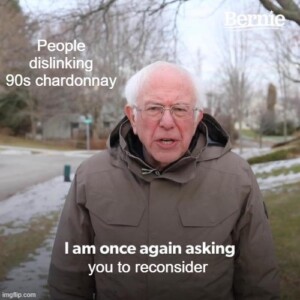 Reason you'll love this chardonnay like Edward loves Vivian: 
The DMAC effect
Our winemaker, Dwayne (aka DMAC), is one helluva fusspot when it comes to quality, and it totally shows. We won't get too technical, but Dwayne has a persnickety way of wanting things [just so]. And you know what? You can't argue with results. Every business needs a stickler for quality like DMAC and we adore his attention to detail that makes our wines oh-so amazing. 
The fruit
Chardonnay and pinot noir are cousins (who actually get along) so wherever pinot thrives, so will chardonnay. The cool climate of the Moorabool and Yarra Valleys are ideal for growing the chardonnay grape. 
The terroir
(Terroir means soil, topography, and climate — fancy.) For farmers, the land is life, and we hit the jackpot with our vineyard in Geelong. We combine this impeccable fruit from the Strathbogie region to give us a great consistency of flavour. This means that you can be confident in the flavours to expect from us, year after year. 
The fun 
For us, wine is about enjoyment — sharing a glass or two to connect with your special humans, and spoil yourself. Whether you are relaxing after a long day or partying with friends, we have the wine to match. We're not about being snooty, inaccessible or using confusing language. We're just an everyday farming family, making great wine and enjoying a few laughs along the way. Cheers to that, hey? 
Vegan wine
Vegans, raise your glasses, because all of the 6Ft6 range is vegan, i.e. it's c-o-m-p-l-e-t-e-l-y free of animal products. You'd think wine, being made from grapes, is always vegan — but not so. Learn more about it here, on this creatively titled article 'Is all wine vegan friendly?'
The planet 
We want to care for this planet — it's the only one with wine! Sustainability has been at the forefront of our business since we started in 1982. Working daily on the land, we see first-hand the effects of climate change, and it's devastating. We continually make improvements to ensure our footprint is kept to a minimum by: 
replanting trees on our property—we have planted over 10,000 trees since 1990 

using 100% recyclable packaging, which means our cartons are a little bit fugly but a lot more sustainable 

investing heavily in irrigation systems and vineyard treatments such as straw and natural soils to reduce unnecessary water usage 
So, when you buy from us, you buy a wine that's as good for the planet as possible.
The details
Region: Victoria
Alc: 12.5% 
Winemaker: Dwayne Cunningham (DMAC)
Great Chardonnay
Fabulous wine! Crisp and clean. Will definitely purchase again.
My go to for a special night share is the Austin Chardonnay, a beautiful wine.