Take an Aussie Wine Road Trip [without ever leaving your house]
The 6Ft6 wine road trip for the wanderlusting wine lover

 If you love wine, you're probably quite aware that visiting vineyards and cellar doors in picturesque locations is one of life's greatest pleasures.  But unfortunately, it doesn't look like we're going to be doing much day tripping (let alone travelling to far-flung locales) for the foreseeable future.
So, what is a wanderlusting wine lover to do?
How does a wine tour of Australia without ever leaving your house sound?
We've put together a list of interesting and iconic Aussie wines (all available from Uncle Dan's or take a list to your local independent bott-lo) that you can strategically place around your home for your own personal Aussie Wine "Road Trip".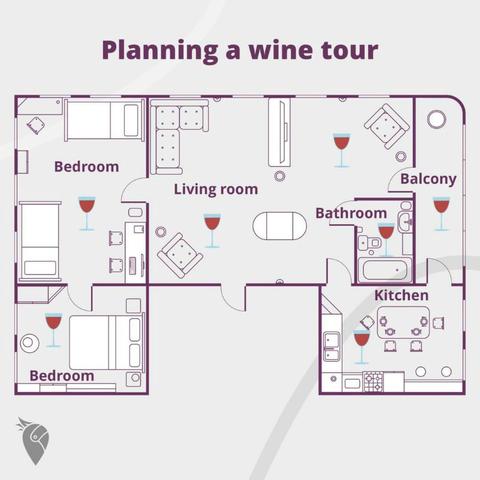 Starting in the west… The Margaret River Wine Region
Most of us have tried a Margaret River Cab Sauv, but did you know it's their whites that are their best kept secret?  Our first drop is a Margs Semillon/Sauvignon Blanc blend.  Sauv Blanc is the number 1 purchased wine varietal in Australia, so we know this one will be a popular choice, but even if you don't think you're a Savvy B drinker – this blend might just convince you!
Budget (< $20): Vasse Felix Classic Dry White Semillon Sauvignon Blanc
Blowout: Cullen Mangan Vineyard Sauvignon Blanc Semillon
Serve with: A seafood platter (or creamy pea and asparagus pasta for a plant-based option)
For ambiance: Sit under a tree with a surfboard, listen to some Eurogliders, wear a crapload of jangly silver jewellery and get chased by a swan
Discussion points: Discuss the fact that Cullen is Australia's first Biodynamic/Carbon Neutral winery.  *Always* refer to Margaret River as "Margs", you'll sound like you're in the know
Head about 2,700km due East (or you know, into the next room in your house) and you'll hit South Australia!
This is a trip about trying new things and we're working under the assumption that baby Aussie wine lovers are fed Penfold's in their bottles, so we're actually *not* going to recommend a Barossa Shiraz – but fear not – our Shiraz offering will still be deliciously juicy, stupidly easy to drink and might open up a whole new world of reds that you'd never considered trying before!  We're talking McLaren Vale baby.
Budget (< $20): Pirramimma Stock's Hill Shiraz
Blowout: Oliver's Taranga Vineyards HJ Reserve Shiraz
Serve with: A fancy burger
For ambiance: YouTube some videos from the Adelaide fringe and fight over whether or not Port Adelaide deserve to be in the AFL
Discussion points:  McLaren Vale is one of the most geologically diverse regions in the world.  The fact that South Australia is still Phylloxera free.  The d'Arenberg Cube: Why? 
It's a long, thirsty eight-hour drive from McLaren Vale to Geelong, so lucky we're just heading into the next room – but maybe try to squeeze in a few "Are we there yets" – for authenticity. 
You heard it here first…. Geelong is the wine region aaaall the cool kids are going to be talking about in the next few years, and it would be remiss of us to not mention the truly spectacular Pinot Noir that's being produced in the region!  There's a reason why Pinot is fast climbing the "most popular" lists here in Aus, it's a tricky bugger to make, but when you get it right – *chef's kiss* – there's nothing better.
Budget (< $20): 6Ft6 Pinot Noir
Blowout: Austin's Pinot Noir 
Serve with: Duck or mushroom (or both!)
For ambiance: Get out your Cats scarf, make your own bollards and put some Xavier Rudd on the boombox
Discussion points: Why Pinot is called "the heartbreak grape".  The fact that Austin's Winery used to be at the bottom of the ocean!   
Back in the "car" again, we're heading to one of the most scenic wine regions in the country.  And yes, the King Valley has some of the most beautiful cellar door experiences going around – but can you wear PJs while wine tasting when you're not in your own lounge room?  Yeah, didn't think so.
Victoria's King Valley is Aussie wine's home of Italian varietals and Australia's favourite of the bunch?  Prosecco of course! 
Budget (< $20): Dal Zotto Prosecco (6Ft6 Prosecco is technically from the King Valley also!)
Blowout: Pizzini Il Sofio Prosecco
Serve with: Hot chips or creamy cheese (anything fatty and greasy!)
For ambiance: Go full Italian!  Spotify some Italian accordion music, fly an Italian flag, wear a linen suit and sit on folding chairs on the footpath
Discussion points: The Prosecco grape is actually called "Glera".  The controversy over branding your wine as "Prosecco".  The differences between Prosecco and Champagne (or Traditional Method Sparkling).
For the last leg of our journey, it's Spirit of Tassie time!  The borders to the Apple Isle are well and truly closed atm, but if you have a bath at home, maybe chuck a plastic boat in and use your imagination.
Tassie's cool climate is similar to the French Champagne region, and that means two things – Pinot Noir and Chardonnay.  We've just downed a pretty spectacular Pinot, so that means it's cool climate Chardy time!  Be warned: Tassie Chardonnay is nothing like the oak bombs Nana used to drink, think fresh citrus and stone fruit flavours and subtle, sophisticated oak influence.
Budget (< $20): Josef Chromy Pepik Chardonnay
Blowout: Bay of Fires Chardonnay
Serve with: We're in Tassie – gotta be oysters or truffles!
For ambiance: turn your crucifixes upside down, turn off all the lights, YouTube some Mongolian throat singing and pretend you're at Dark Mofo (Hobart's super weird Winter Solstice festival)
Discussion points:  Tassie has SEVEN distinct wine producing areas. Most of Tasmania's wine gets consumed domestically.  Are thylacines really extinct?
And that's that. 
A comprehensive cellar door tour of Aus, all for under $100 and without even having to take off your stretchy pants! 
Don't forget to tag us in your tasting pics @6ft6wine