Delicious wines – dirty takeaway – a match made in heaven

The 6Ft6 wine and take away matches for your next night in.
Are you the sort of person who's always considered wine a "special occasion" beverage? Only to be brought out when you've got company? Or an extra fancy dinner planned?
Well it's time to change all that. With our 6Ft6 Guide to pairing wine with your favourite dirty takeaway.
Imagine it's Friday night, you've been at work all week, or chasing the kids up and down stairs, and there's nothing in the pantry that will even begin to constitute a square meal.
What's your go-to?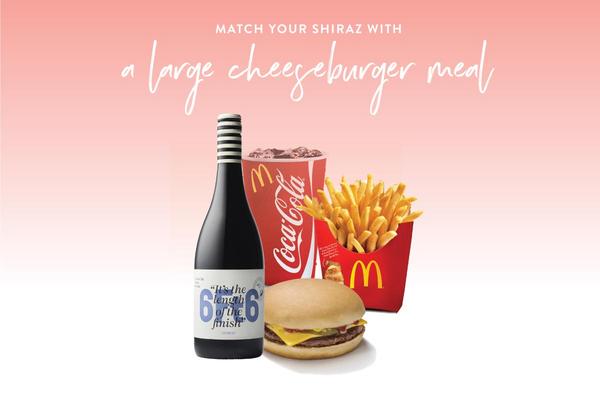 What wine goes with a McDonald's large cheeseburger meal or Meat Lover's pizza?
In the southern US, cheeseburgers were traditionally paired with a sweetened iced tea. Who knew? But as usual, with traditional pairings, there's method behind the madness. The reason tea worked so well, is that its tannin acts as a palate cleanser, cleaning up after the fatty beef and the stickiness of the cheese.
Our 6Ft6 Shiraz showcases rich supple fruit characters, continuing to an elegant palate with velvety smooth tannins – making it the perfect match for something meaty and cheesy. A smoky BBQ sauce or a little spice just makes this pairing even more perfect.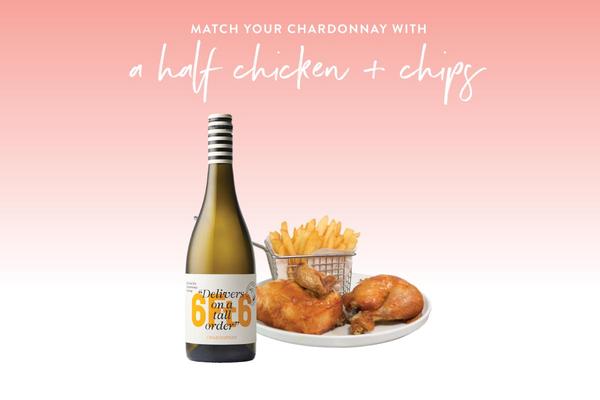 What wine goes with a Half Chicken & Chips?
Any number of white wines would go with BBQ chicken, but our contemporary 6Ft6 Chardonnay might be the ideal match.
Our Chardonnay is pure in its aroma and taste, with undertones of mineral wet stone and flint. With a juicy palate, crunchy fruit flavours and green-apple like acidity, the lovely balance of texture and flavour will offset the smoky flavour of a BBQ chicken and cut through the oil of the chips.

What wine goes with Fish n' Chips from your local?
If you're not drinking 6Ft6 Prosecco with your dirty fish n' chips – you're doing it wrong.
The experts at Moët & Chandon have gone on the record saying that fries are one of the ideal foods to pair with a glass of champagne… and who are we to argue? The fresh acidity and bubbles in our Prosecco equally makes for an excellent complement to the fatty saltiness and crunch of a piece of battered flake and a minimum chips.
If you can enjoy this pairing on the beach, at sunset – even better.

What wine goes with Shanghai Dumplings?
Sauvignon Blanc and fried food go together like vegemite and butter on toast. The subtle flavours in the wine won't overpower the dumplings — whether they are steamed or fried — and the restrained acidity of our 6Ft6 Sauv Blanc will cut through the grease and fat.
Sauv Blanc is a classic pairing for salads, pork or seafood – so whatever your dumpling preference, you should be in good company.

What wine goes with Pad Thai?
The predominant flavours of Thai cuisine are sweet, sour, hot and salty, and while Thai people themselves would not generally drink wine with a meal, we can, again, take cues from the beverages they would choose, traditionally green tea or jasmine infused water.
The ripe pear, citrus blossom notes and light texture of our 6Ft6 Pinot Gris will perfectly compliment the sweet spices in chicken or seafood Pad Thai and won't overpower it. 

What wine goes with Butter Chicken?
A wine that is mineralic and earthy will bring out the best in your butter chicken dish — enhancing its spicy goodness. Our 6Ft6 Pinot Noir is the fourth highest selling Pinot Noir in Victoria and for good reason! Because it's so versatile, it matches to most wine tastes and most meals – making it a great option when pairing with notoriously tricky Indian cuisine!
The spicy cherry flavours will beautifully balance the creamy, nuttiness of the curry and the hints of earth and oak compliment that buttery flavour.
Match made in heaven.

What wine goes with a Poké Bowl?
If your "dirty" takeaway of choice is the Hawaiian national dish, let's face it, you're probably not planning on waking up at 10am on Saturday with a food and wine hangover – so you're going to want something light and fresh to pair with your meal. 
Our 6Ft6 Rosé embodies the fresh, vibrant scents of candied summer berries with just a hint of watermelon. Mouth-filling strawberries, cherries and crunchy melon fill the silky palate with a refreshingly clean, dry and delicate finish. Rosé is a classic pairing for salmon sashimi and the fresh sweetness is the perfect complement to salty edamame and crunchy wonton crisps.
Now isn't your lazy Friday night suddenly looking up?