Spritz Please! Four Easy to Make Wine Cocktails
Easy at-home Spritz
Feel like making some wine spritzer's but don't feel like an Aperol Spritz this one time around? Enter 6Ft6, where good times are guaranteed and wine spritzer cocktails are somewhat of a specialty.
We've created some epic (and easy) wine cocktails to make at home with staples you'll be sure to have in the cupboard.
These easy cocktail recipes are not only super simple to make, they're so delicious your friends will be knocking down your door every week night.
The Ginger Ninja 
Chardonnay Spritz Recipe
Looking for something that will warm your bones and lift your spirits? This cocktail is for you! If you are looking to lighten the alcohol content non alcoholic ginger beer is definitely an option. Otherwise pop your fave in and enjoy.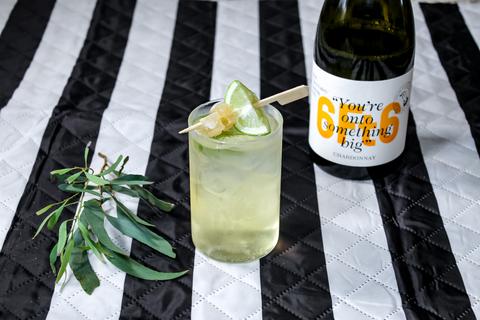 Ingredients
150 ml chilled 6Ft6 Chardonnay
150 ml chilled ginger beer – alcoholic if you are feeling particularly spicy!
Half a lime – juiced
Other half of lime for garnish
Method
1) Take yourself a highball glass and fill it with ice.
2) Pour 6Ft6 Chardonnay, ginger beer and lime juice over the ice.
3) Give the drink a good swizzle and garnish with lime!
Give me the Citz!
Pinot Noir Spritz Recipe
If you are yet to try a red wine cocktail, we suggest you give it a go. It's the perfect Autumn afternoon item to pair with soft cheese and cucumber sandwiches, hello picnic staple!  If you don't have a cocktail shaker it is also very good stirred!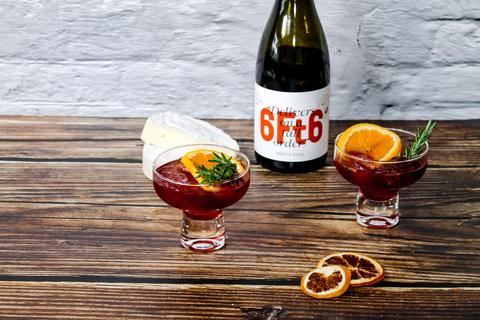 Ingredients
100 ml 6Ft6 Pinot Noir
50 ml fresh orange juice – half an orange is perfect
25 ml maple syrup
150 ml soda water
Sliced orange and rosemary sprig to garnish
Method
1) Measure your 6Ft6 Pinot Noir, orange juice and maple syrup to a cocktail shaker.
2) Give it a really good shake so that the cocktail becomes cold and gets a little frothy on top.
3) Fill your prettiest little cocktail glass with ice, and the Pinot mix, top with soda and garnish with some orange slices and a sprig of rosemary.
Hey Strawbs!
Sauvignon Blanc Spritz Recipe
Sometimes you have to bring the Summer to you right? This sweet little number will soon be a fave in your house as much as it is in ours.

Ingredients
150 ml chilled 6Ft6 Sauvignon Blanc
30 ml vodka
3 large strawberries, hulled
1 wedge of lemon – juiced
2 shots (100 ml) lemonade
Method
1) In the bottom of a tall glass pop your strawberries and lemon juice and use a muddling stick or the end of a rolling pin to muddle [crush] the strawberries.
2) Add lemon juice, 6Ft6 Sauvignon Blanc, vodka, lemonade and stir to mix, top with ice and serve.
Eldergris
Pinot Gris Spritz Recipe
Perfect for Picnics! An easy drinking little ditty that is perfect for sharing and will take you from 2pm thru to 5.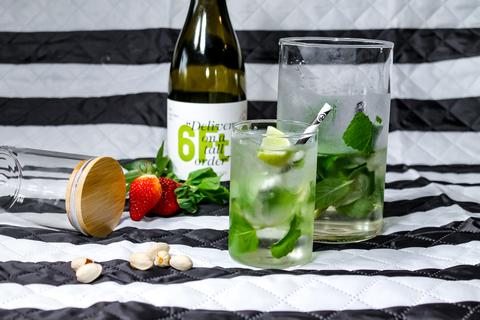 Ingredients
375ml chilled 6Ft6 Pinot Gris
80 ml Elderflower cordial
200 ml soda water
1 lime, sliced
1/2 a bunch of mint
Method
1) Mix the 6Ft6 Pinot Gris, Elderflower cordial and soda water in a jug.
2) Divide break up mint sprigs and lime slices between 4 tall glasses – squeezing some juice out as you go then fill glasses with ice.
3) Top with cocktail mix and enjoy!
Other Blogs you might enjoy