Hot Cross Brioche Buns, 6Ft6 style
 OUR FAVOURITE HOT CROSS BUN RECIPE IS HERE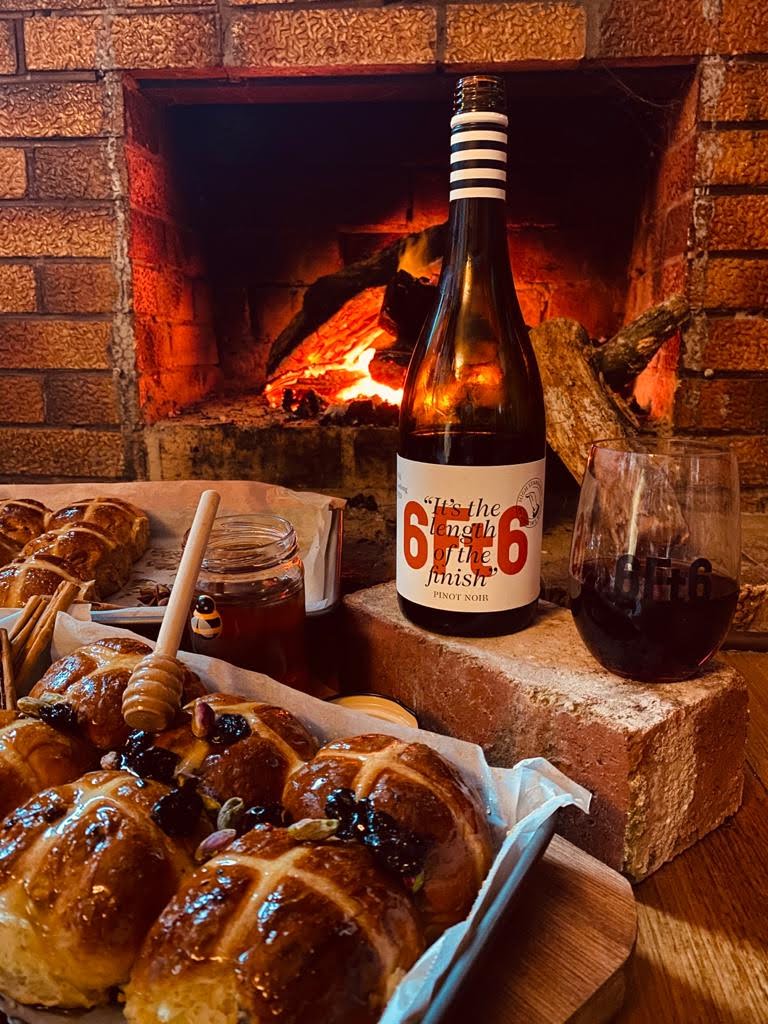 There was something about lockdown that brought out the inner baking goddess in all of us, and creating these Hot Cross Buns will make you feel like Nigella Lawson in no time.
What's better than making your own Hot Cross Buns at Easter?! Hot Cross Buns, an open fire and a bottle of Pinot Noir. 
We reached out to one of our 6Ft6 fan favourites, Stephanie Bailey who is a qualified Chef and our very own Geelong version of Nigella Lawson, who created these proven Easter gems and paired with our 6Ft6 Pinot. We love you, Steph! 
HOT CROSS BUN RECIPE – LET'S BAKE
INGREDIENTS
3 1/3 cups (500g) plain flour, plus extra 1/2 cup, for the crosses
1/4 cup (55g) caster sugar
7g (about 1 sachet) dried yeast
Finely grated zest of 1 lemon
1 tsp ground cinnamon
200ml lukewarm milk combined with 1 tsp saffron threads
2 eggs, room temperature
100g unsalted butter, softened, chopped
150g dried sour cherries
60g candied orange, diced
50g slivered or chopped pistachios
 Glaze
120g runny honey
Juice of 1/2 orange
1 tsp orange blossom water
METHOD
Combine flour, sugar, yeast, lemon zest, cinnamon and 1/2 tsp salt flakes in the bowl of a stand mixer fitted with the dough hook. Add milk mixture and eggs and mix on medium speed to combine. Gradually add butter and knead to combine.

Add sour cherries, candied orange and pistachios and knead for 4-5 minutes until shiny and elastic. Transfer to a lightly buttered bowl, cover with a clean tea towel and stand in a warm place for 1 hour 30 minutes-2 hours until doubled in size.
Knock back dough on a lightly floured surface, divide into 12 pieces, roll into balls and arrange in a 20cm x 30cm slice pan. Cover loosely with plastic wrap and set aside in a warm place for 30-40 minutes until risen by half.
Meanwhile, preheat oven to 180°C. 
To make the crosses, mix extra flour and 1/4 cup cold water in a small bowl to form a smooth paste. Transfer to a zip-lock bag and cut a small hole in one corner. Pipe a cross on each bun and bake for 20-25 minutes until golden brown and cooked through.      
For the orange blossom glaze, stir honey and orange juice in a small saucepan over medium-high heat to combine, bring to the boil, remove from the heat and stir in orange blossom water. Brush generously over warm buns, pouring any remaining glaze over (the buns will soak up the extra glaze) and serve. Buns are best eaten on the day they are made, but are also excellent toasted after a day or two.
Serve with a side of 6Ft6 Pinot Noir
Make sure you tag us in your Easter baking whilst you learn to make the most epic Hot Cross Buns and remember, don't go baking alone and bring along a bottle of 6Ft6 with you.