Wait… isn't all wine vegan-friendly?
Not all wine is vegan. Here's why…
As we all know (or I hope we do anyway) – wine is made from grapes.  So then, why exactly when you went to all the effort to cook that delicious vegan friendly pasta and garlic bread (olive oil, not butter) for your friend on the weekend, did he pause, at the last second, before taking a sip of your painstakingly chosen accompanying Pinot Gris and say "Is the wine vegan?"
"Wait… what??"
But, for vegans and vegetarians, this is becoming a much-asked question, "Are wines suitable for vegans/vegetarians?"
In the past, this was not a question we were asked particularly often, but as peoples' awareness increases – you can expect this one to come up A LOT. Not all wine is considered vegan.
Let us fill you in.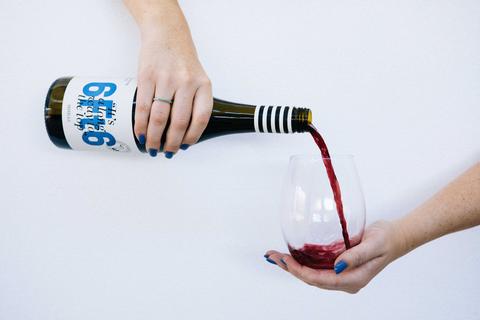 What makes wine vegan?
The reason why a beverage that is essentially fermented grape juice is not always considered vegan or even vegetarian-friendly has to do with how the wine is clarified, through a process called 'fining'.
When wines are young, they are naturally hazy and contain tiny molecules such as phenolics, tartrates and harsh tannins. These are all a natural product of the winemaking process and in no way harmful. However, we modern wine-drinkers don't like drinking hazy wines. We prefer our wines to be clear and bright.
According to our winemaker, "Fining is the process where a substance (fining agent) is added to the wine to create a bond with suspended particles, producing larger particles that will fall out of the wine more readily and rapidly" – yep, our eyes are glazing over too. Look, if you understand the science behind it, good for you, but basically – the crux of it is, animal products are used to clarify most of the wines we drink.
Traditionally the most commonly used fining agents are proteins like casein (milk protein), albumin (egg whites), gelatin (animal protein) and isinglass (fish bladder protein).  Keep in mind that these are not additives – these products are all filtered out by the time the wine gets to you and me, so wine is still considered vegetarian, but it's the process and the fact that animal products are used at all that makes most wine non-vegan.
So what's the alternative to using animal proteins to make wine? Well, according to winemaker Dwayne, "As vegans are well aware, proteins are found in many plant-based products. And at 6ft6, we find that potato and pea proteins work just as well as gelatin and egg whites."
Magic, right?

Where to buy vegan wine?
So next time you're wondering "how can I find vegan-friendly wines?" – Keep this one in your back pocket – all 6ft6 wines are 100% vegan-friendly and certainly none the worse for it.
Our wines are available at all good bottle shops including Dan Murphy's, BWS, Liquorland, Vintage Cellars, First Choice, IGA Liquor and independent retailers throughout Australia.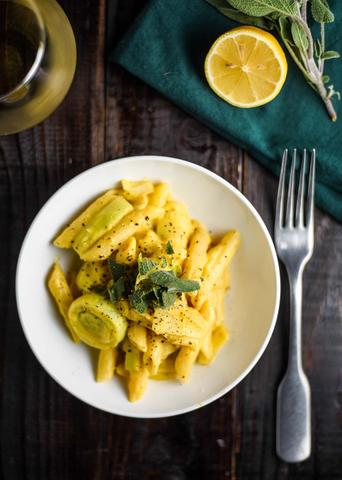 Vegan Wine Pairing – Pasta Recipe to match 6Ft6 Pinot Gris
And if that vegan friend of yours is planning another visit – here's one our favourite recipes to go with the 6ft6 Pinot Gris you'll certainly be serving next time
Creamy Butternut Pumpkin Pasta
Original recipe from plantandvine.com
Serves 6
Ingredients
Sauce
1/2 cup raw cashews
1 1/2 cups vegetable stock
2 cups roasted butternut pumpkin, cubed
2 1/2 tablespoons white miso paste
2 tablespoons nutritional yeast
1/2 lemon, juiced
Salt and pepper to taste
Pasta
500g pasta (we like Rigatoni)
1 tbsp olive oil
1 medium onion, finely chopped
2 leeks, cleaned and chopped
6 cloves of garlic, minced
2 tbsp fresh sage, chopped
3/4 cup dry white wine
Salt and pepper to taste
Chop your peeled pumpkin into 1cm cubes and roast at 200ºC for 20 minutes, flipping halfway
While squash is baking, bring water to a boil and submerge cashews. Remove from heat and let sit for 20 minutes to soften.
Bring a pot of salted water to the boil. Add pasta and cook until al dente. Strain and set aside.
Once cashews are softened, drain cashews and blend with vegetable stock, roasted pumpkin, miso paste, nutritional yeast and lemon juice, until smooth. Set aside.
Using the pot from the past, sauté onions and leeks in olive oil over medium heat for 3-5 minutes. Add garlic, sage, salt and pepper and cook for an additional 3 minutes, until aromatic.
Add wine. Bring to a low boil and reduce heat to simmer to reduce the wine, apx 3-6 minutes.
Reduce heat and add pumpkin sauce and cooked pasta. Mix well and heat until warmed through.
Serve with fresh cracked black pepper and leftover sage.
And don't forget a glass of 6ft6 Pinot Gris!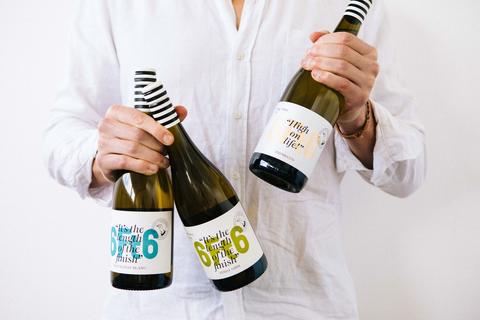 Some other blogs you might like:
Pinot Noir – 5 facts you need to know