Watermelon Sangria Recipe
A summer version of the classic Sangria cocktail.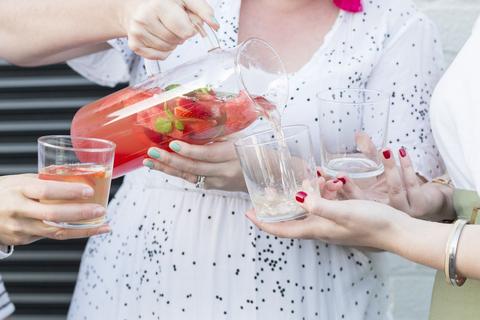 You can't get much fresher than this! This Watermelon Sangria is the perfect balance of sweet watermelon and an aromatic dry Sauvignon Blanc, a winning combo!
This is designed to be shared, serve in a jug and bring a little summer into your home.
INGREDIENTS
– Ice cubes
– 1⁄2 seedless watermelon, peeled and cubed
– Watermelon balls, for garnish
– 1 bottle 6Ft6 Sauvignon Blanc
– 1 cup vodka
– 1/2 cup Cointreau or other triple sec
– 1/2 cup Citrus Syrup (or sugar syrup)
– Mint leaves, to garnish
INSTRUCTIONS
1 – In a blender, puree the watermelon cubes. Pour through a fine strainer into a jug
2 – Add 6Ft6 Sauvignon Blanc, vodka, Cointreau and citrus syrup
3 – Stir and refrigerate for at least two hours
4 – Add ice cubes to glassware
5 – Stir again, then pour sangria into ice-filled glasses
6 – Garnish with mint