Rosé + Prosecco Gummy Bears Recipe
Easy DIY Wine Lollies to make at home
The ultimate DIY treat this summer is rosé and prosecco gummy bears! They are also really simple to prepare and only require 3 ingredients. We have tasted a range of wine flavours and the Rosé and Prosecco definitely are the winners in our humble (but experienced) wine drinking opinion. Now when you make these delicious little treats, don't expect store bought rubbery bites but slightly chewy parcels of delicious, wine flavoured sweets.
You can make these using gummy bear moulds (we found some on ebay), however we actually prefer using larger Rose moulds that we found at Spotlight.
Of course it doesn't matter what moulds you use, it all tastes the same, but we do think the Rose and heart moulds look particularly cute (and impressive!).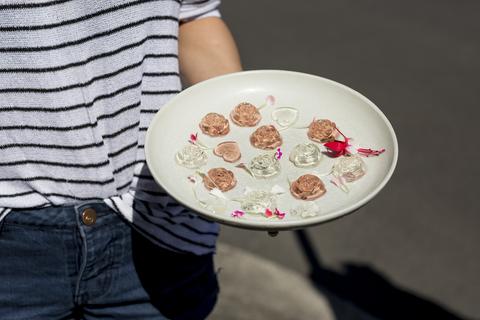 Prosecco and Rosé Gummy Bears Recipe
Tools Needed:
Ingredients:
½ cup of sugar
3 tbsp. of powdered gelatin
Instructions:
Add 6Ft6 Rosé, sugar and gelatin in a saucepan over medium to low heat (to keep alcohol in, ensure temperature stays under 90 degrees)
Whisk for 2-3 minutes or until sugar and gelatin have dissolved
Using a glass measuring cup with a spout, pour mixture over the gummy bear molds (we used a selection from Spotlight – here )
Refrigerate for at least 90 minutes or until gelatin has set
Once set, pop bears out from the mold
Store uneaten prosecco gummy bears in an airtight container in the refrigerator.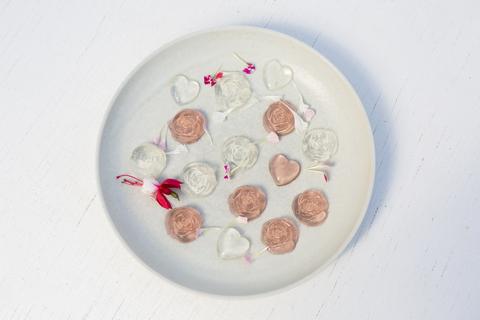 Serve them in a pretty jar or vintage bowl at your next party or for a gift you could place them in a glass jar and wrap with gold and pink ribbons.

Photos by The Wild Social
Styling by Styled by Desire