Easy Recipes that Wow – Baked Camembert with garlic.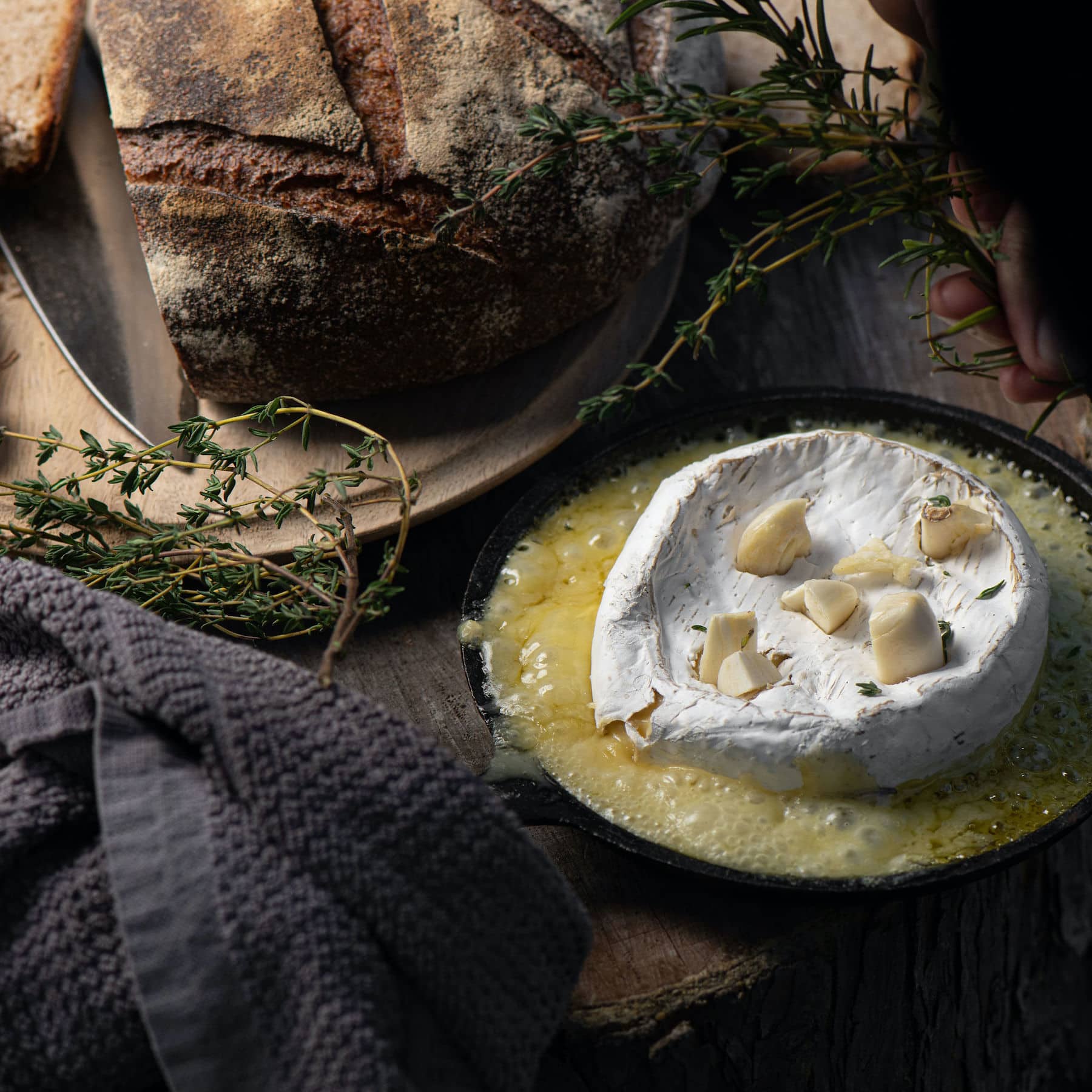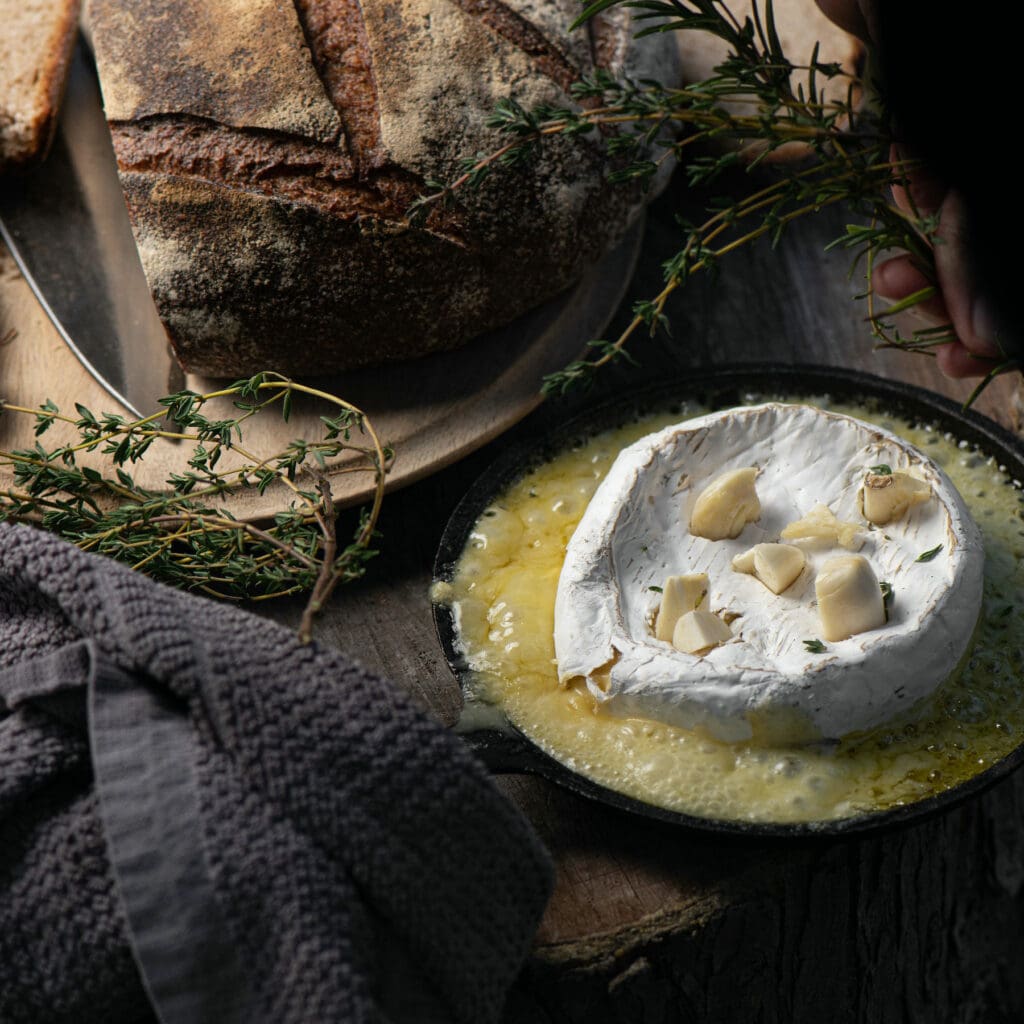 Gooey warm, melty cheese, crusty bread and a glass of wine. Can you name a better combo? Yeah, we couldn't either. This Baked Camembert recipe ticks all those boxes and more.
Read on to find our favourite recipe for gooey cheesy goodness!
Cooking at home is in this winter.
Who wants to go out once the mercury drops this far??  Here at 6Ft6, we are all about easy and impressive dishes.  Think dishes that will get you all the oohs, aahs and wows from your hungry guests without needing a diploma from Le Cordon Bleu. 
We've prepared our 'Easy Recipes that Wow' series just for you. Well, that's not entirely true… we didn't, Sam Gant from Pot and Pan Culinary catering and Co-Owner of 'There' did. Thanks Sam!
This recipe is sure to give you the reaction you desire and make you the host with the most this winter!
Sam whipped up this easy Baked Camembert recipe while we were on location at the Estate, Trentham. We all sat around the fire, dipping bits of crunchy loaf into the oozing cheese for a very satisfying mouthful. Cheese in one hand, wine in the other, we were in winter food heaven.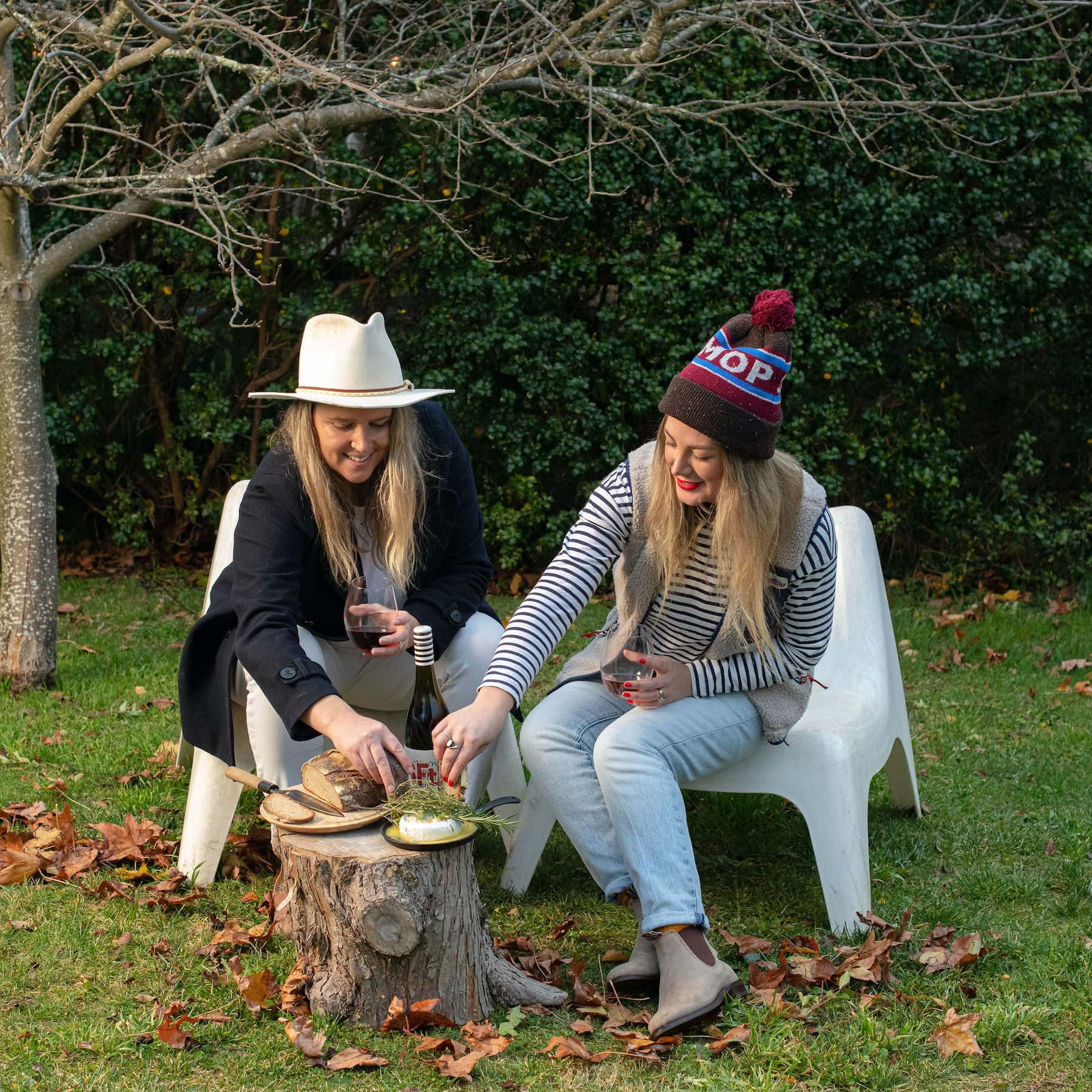 What camembert is best for baking?
The key to this recipe is to choose the best cheese that you can afford. We used the delicious Lé Conquerant cheese sourced from Will Stud at Calendar Cheese.

Do you need to bake the Camembert in the box?
Many Baked Camembert recipes ask you to use the box that they come in. This recipe only requires some baking paper. We used a mini skillet over the fireplace, because insta worthy shot, but it is not necessary for the taste.
The Recipe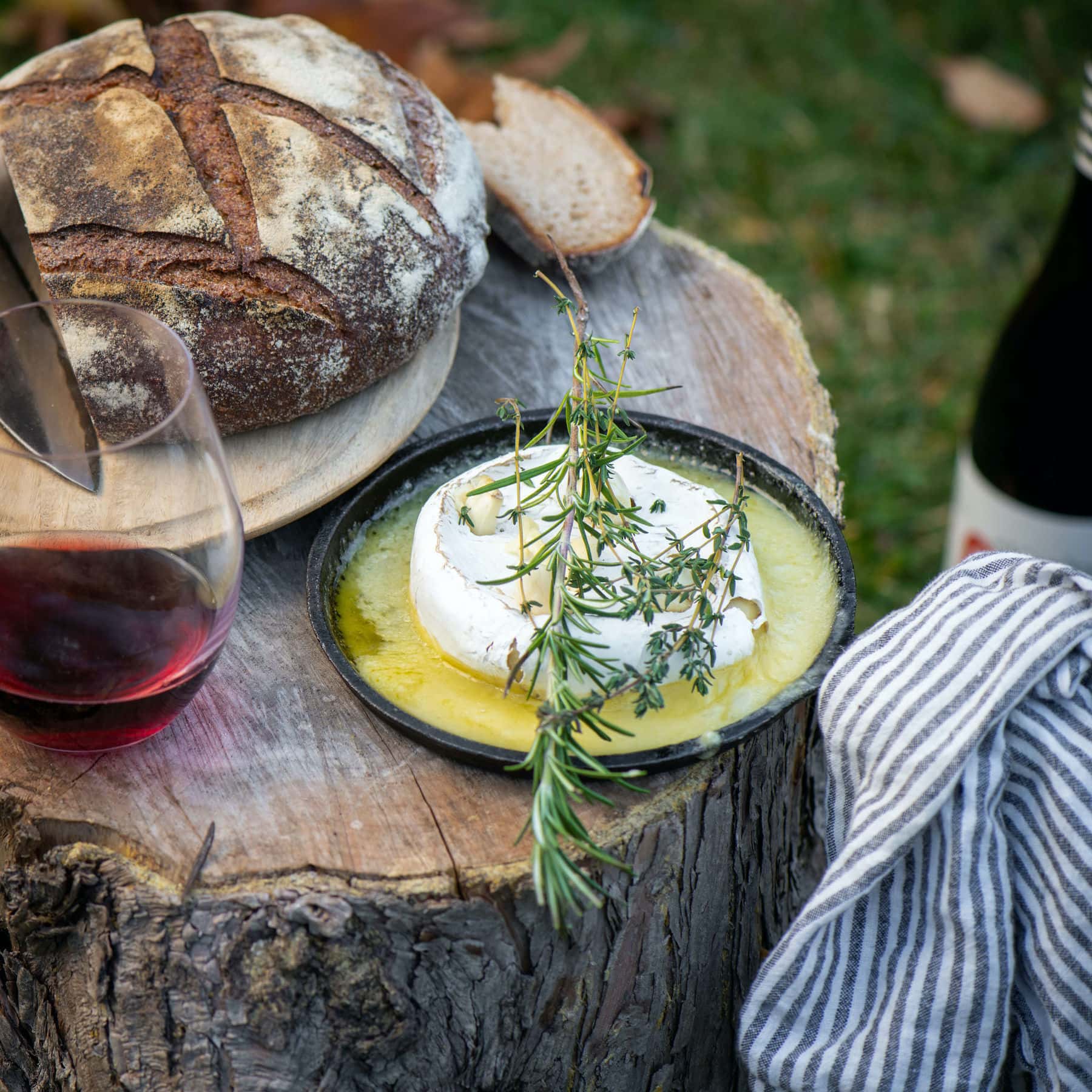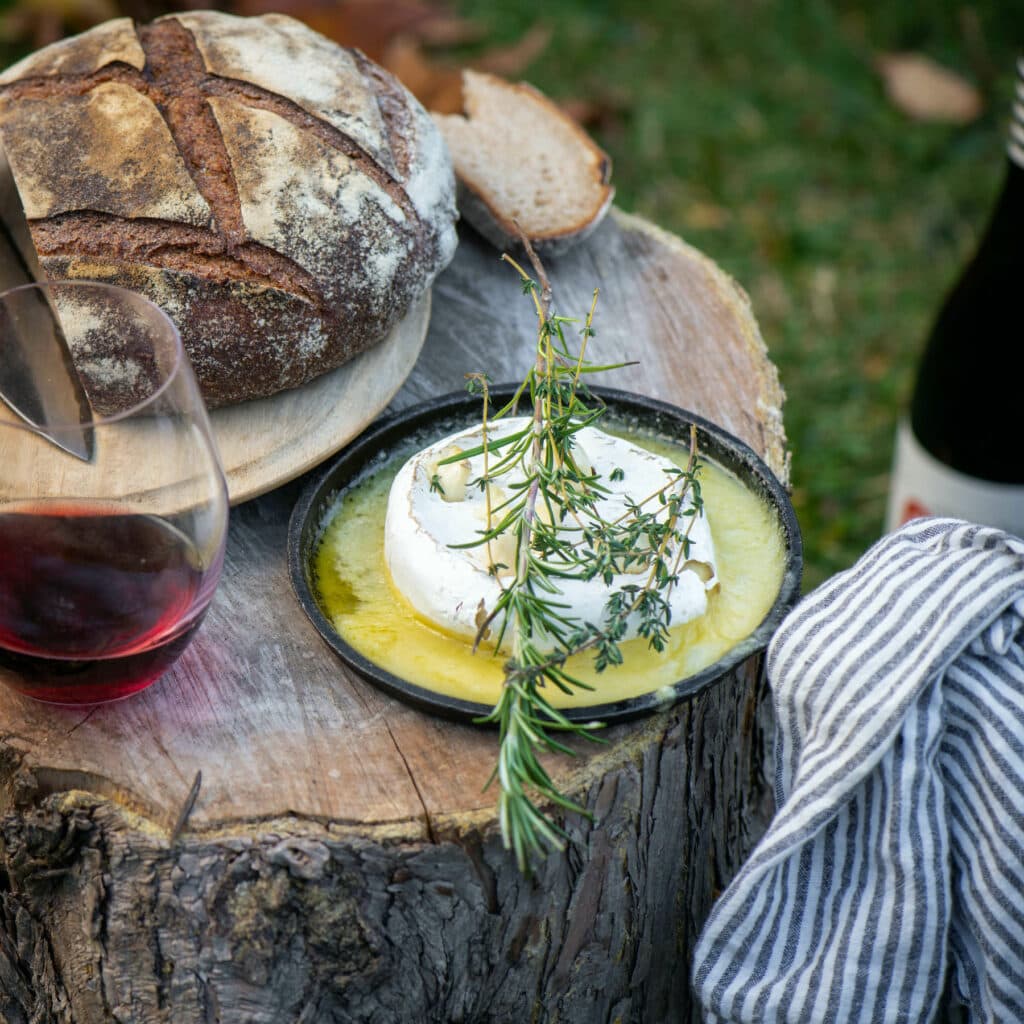 Baked Camembert Recipe by Sam Gant
Ingredients
1 wheel of camembert (Le Conquérant cheese by Will Studd)
1 clove of garlic finely sliced
2 sprigs of fresh thyme
1 tablespoon of white wine. I used 6ft6 Chardonnay as it pairs so well with soft, buttery cheese
1 x crusty baguette

Method
Preheat oven to 180C (160C fan forced). Remove cheese from wrapper and place on a tray lined with baking paper. Stab lots of little holes into the top of the camembert using a small sharp knife. Put a sliver of garlic into each slit as well as a little of one of the stems of thyme.
Pour wine over the camembert, season with sea salt and cracked black pepper. If you want to be a little bit fancy, gather the sides of the baking paper and tie with a piece of kitchen string. Once baked you can untie the string for a big reveal. Bake in the oven for 12-15 min or until lightly golden and cheese is hot and gooey.
Serve right away with some 6Ft6 Chardonnay and some crusty baguette.