Your New Go-To Prosecco Cocktails!
Easy Prosecco cocktails
Fact: a splash of bubbly Prosecco will make any drink more festive! Prosecco's delicate flavour and light sparkly fizz make it the ideal candidate for imaginative mixology. Whether you're throwing a summer shindig, pre-gaming or just treating yo-self – you'll love these easy Prosecco cocktail recipes!
Easy Prosecco cocktails to make at home


Prosecco Pomegranate Spritz
Quick and colourful, let our Prosecco Pomegranate Spritz be your signature cocktail this holiday season. Fool proof and super easy to make, you'll have everyone and their maiden aunt begging you for the secret recipe.
Leave one out for Santa, or re-name them for Christmas Brunch – who's going to say no to a "Pomegranate Mimosa"? A December pre-noon staple. Bottoms up.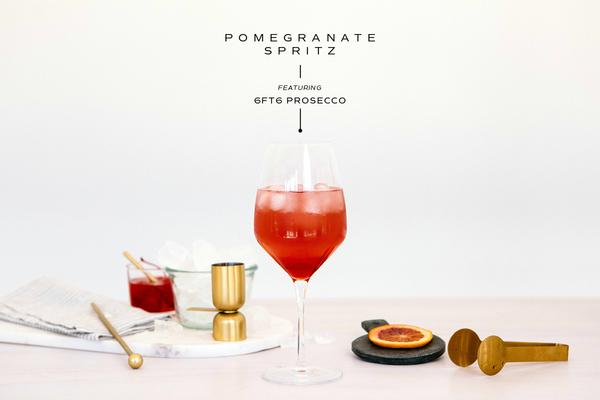 Montenegro Spritz
Amaro Montenegro is sweet, like Aperol, but it moves past the one-dimensional orange territory into deeper, more herbal flavours, and for a drink that feels as fresh and new as the season itself, it's impossible to go past a spritz for its ability to temper the summer swelter and whet late-afternoon appetites.
For those brave enough to deviate from the omni-present Aperol Spritz this summer, our exclusive cocktail will open up a whole world of honeysuckle, rose, allspice, with still a touch a bit of candied orange peel. Sip it. Sip it good.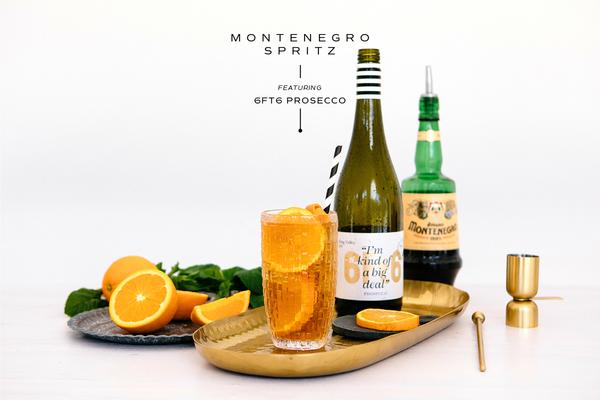 Sloe Spritz
Like a true spritz, this zesty prosecco-based cocktail is the perfect drink to add some pop to any drinks list. Full of citrus flavours (thanks to the Lillet Blanc) and bitter notes – it's a perfect mix of sweet and sour!
Make your own 6Ft6 Sloe Spritz at home using the recipe below and make it like the pro's from Alma Restaurant!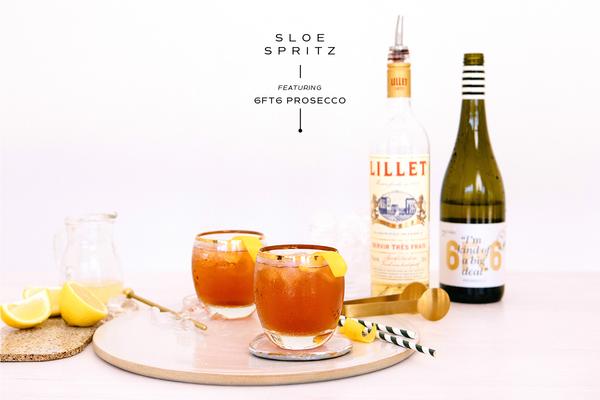 Sloe Spritz Ingredients
90ml 6Ft6 Prosecco
30ml Sloe gin
30ml Lillet Blanc
15ml Lemon juice
3 dashes Orange Bitters
Lemon twist to garnish
Ice
Method
Mix Sloe gin, Lillet Blanc, bitters and lemon juice
Half fill wine glass with ice and pour over mixed ingredients
Add lemon twist to garnish