The Ultimate 6Ft6 Shiraz and Dark Chocolate Brownie Recipe
Red wine and dark chocolate brownie recipe by Bear & Bean.
Whilst we're nearing the end of winter, it's still pretty icy outside, which means we can relish a warm fire, heart-warming food and a delicious red wine.
We've found our new favourite recipe to pair with our 6Ft6 Shiraz.
Bear's and Bean's Chocolate Red Wine Brownies
What's better than a glass of shiraz? Shiraz in Dark Chocolate Brownies, of course. The great folk over at Bear and Bean café have come up with a delicious recipe for a baking lover or just the person who loves to treat themselves using our bold, fruit-forward 6Ft6 Shiraz to create the most decadent brownie we've quite possibly ever tasted.
Dark Chocolate Brownies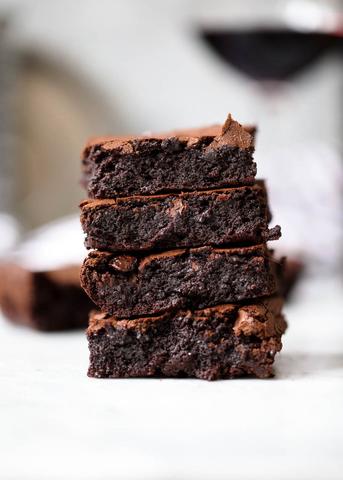 Bear and Bean are tucked away in the corner of Little Ryrie Street, Central Geelong. Priding themselves on supporting local, ethical and organic produce, they put a healthy spin on all things from breakfast to lunch. It was here where the combination of our 6Ft6 Shiraz and a Dark Chocolate Brownie created quite the scrumptious sweet.
Bear and Bean Cafe

What have you got to lose?
After a long week at the office, the sound of Friday puts a smile on everyone's face. Who doesn't love to come home, relax, put their feet up and grab a glass of red, I think it's fair to say we all do?
Treat yourself a little extra this week and add that sweet flair. Most people have quite the sweet tooth and look, we don't blame you! So why not spice up your life a little and try Bear and Bean's mouth-watering Dark Chocolate Brownies, with a hint of walnut, figs and our famous 6Ft6 Shiraz.
The Recipe:
Ingredients:
500 ml 6ft6 Shiraz
275g brown sugar
150g dark chocolate (3/4 broken into pieces)
200g unsalted butter, chopped
2 eggs
200g dried figs, chopped
200g walnuts, chopped
250g flour
Extra walnuts, figs to finish
Vanilla bean ice cream to serve
The Method:
Step 1: Pour the Shiraz into a saucepan and boil until it has reduced to a third of the amount.
Step 2: Stir in the sugar and stir on a low heat until the sugar has dissolved
Step 3: Take the pan off the heat and stir in the chocolate and butter and leave to melt
Step 4: Then beat in the eggs, stir in the walnuts and figs and fold in the flour
Step 5: Line a 20cm square brownie tin with baking paper and spoon in the mixture
Step 6: Top with the extra figs and walnuts and bake at 180c or 160c for fan forced for 30 minutes until the edges are cooked but the centre is still underdone
Step 7: Leave to cool completely in the tin then slice and serve with vanilla bean ice cream
6Ft6 Shiraz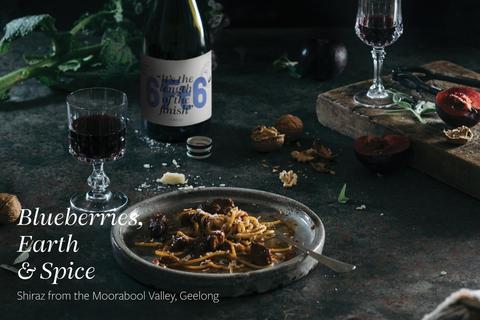 We hope you enjoy our beloved Dark Chocolate Brownies, please share with us your results on the recipe. Send photos and tag us in your uploads, we would love to hear from you. Of course, for the main ingredient your needing our 6Ft6 Shiraz, and we have you covered. Find out more about the shiraz we used in this recipe.
Other blogs you might enjoy:
Red wine + chocolate matching with Hey Tiger Chocolate.
Chocolate and red wine truffles