It's always a pleasure when we get the opportunity to collaborate with personalities who exuberate passion and show genuine interest in your brand.   
We have been lucky enough to have Elliot Garnaut on board as the official 6Ft6 brand ambassador at this years Virgin Australia Melbourne Fashion Festival (VAMFF), taking you behind the scenes and bringing you all things fashion and fun in the lead up.  
Last Friday afternoon Elliot hosted a luncheon for 15 guests on the property of Austins Wines, the home to 6Ft6 wines, to launch the 6Ft6 X VAMFF campaign. The day began with Elliot hosting pre – drinks (wine supplied by 6Ft6 of course) at his personal residence in Melbourne. From there they were escorted by a coach down to Geelong to begin activities and celebrate the launch of VAMFF. 
On arrival guests were taken among the vines to a set up where they had the opportunity to blend their own Shiraz. Guests were given an empty bottle and four different Shiraz in which they had to taste, compare and identify their favourites. The chosen glasses of Shiraz (which was completely different for everyone) were then poured into a personal bottle for them to cork, get labelled and take home. Once the selection process was complete, guests lined up to get their bottles corked by Austins winemaker Duncan. From here guests had the ability to get their wine personalised by Kate from Hardinghand a calligrapher who was on site ready to create the labels.
After creating their own blend, guests made their way down to the Austins family residence located on the property and were treated to a beautiful lunch supplied by Annies Kitchen by the pool.
The menu included:
– Roasted butternut pumpkin, organic quinoa, currents and activated seeds
– Coconut and kaffir lime poached chicken, green papaya, asian herbs, chilli rice vinegar caramel
– Seasonal green salad with toasted nuts and seeds, preserved lemon and mint
With:
– Artisan bread and butter
– A selection of cheeses
– A selection of local Cake Smith desserts
The incredible array of food on offer was of course partnered with not only our 6Ft6 range of wine but also our 6Ft6 FroVino cocktails, the Frosè and Pinot Gris Mojito (currently available at the 6Ft6 Wine Garden at VAMFF).
After an enjoyable meal and some time to soak up the atmosphere, it was time for the day to come to a close. Guests were given a goodie bag put together by Elliot which included personalised gift as a thank you for attending. With extreme happiness the guests hopped back on the bus and headed back to Melbourne to continue the party!
We were so lucky to have a team of people behind the lunch who contributed massively to its success!
Host: Elliot Garnaut
Styling: Laura Harvey Event Stylist
Property: Austins & Co. Winery
Catering: Annies Kitchen
Dessert: Cake Smith
Wine: 6Ft6 Wines
Furniture: Memphis Hire
Flowers: She's a Wildflower
Place Settings: Place Settings, Table Art Event Hire
Menus, personalised coasters, drink mixers and stencil writing: Sketch and Etch Creative
Photography: Stefani Driscoll Photography
Videography: Jessie Crockford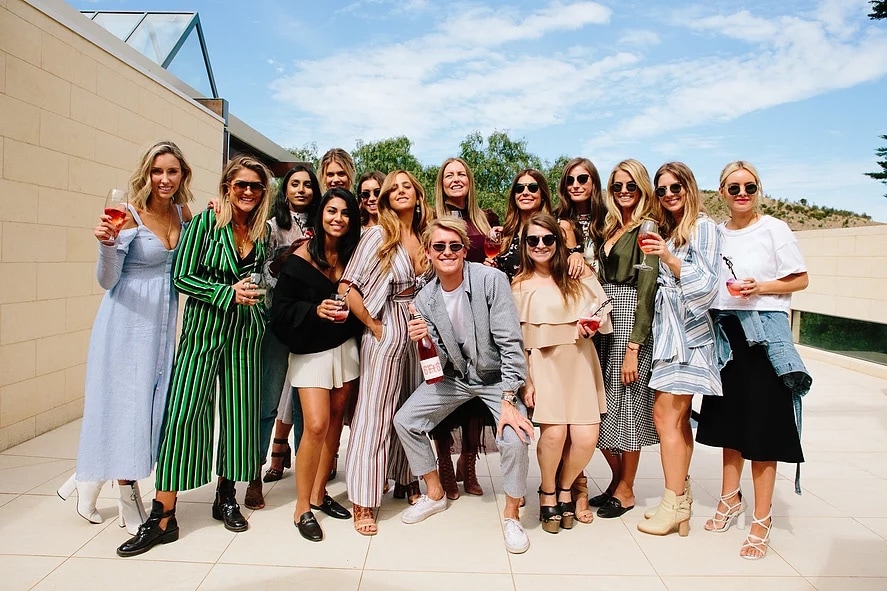 Guests pictured: Suzy Eskander, Tully Humphrey, Vydia Rishie, Jordan Simek, Lauren Koelmeyer, Rozalia Russian, Chrisanthi Kaliviotis, Host – Elliot Garnaut, Anna Byrne, Lauren Phillips, Jackie Epstine, Rebecca Harding, Natalie Roser, Lisa Hamilton, Tessa Jay.
To view all the behind the scenes action of the day, head to our YouTube channel! We hope you enjoy it as much as we do!
Don't forget that if you are in Melbourne, come down to the Melbourne Fashion Festival with FREE entry into The Plaza across the week from 5.30pm. We will be serving our FroVino cocktails (Frosè and Pinot Gris Mojitos) out of our silver bullet van 'Frankie' in the 6Ft6 Wine Garden located just outside the Royal Exhibition Centre entrance!