Rosé – What is this pink drink?
Your top 10 questions answered.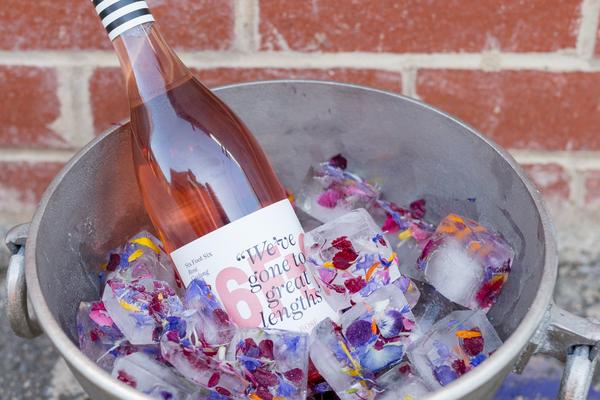 Rosé has seen a surge in popularity
You'd have to be living under a rock to not realise that the popularity of rosé has skyrocketed in recent years.  Once thought of as "the great compromise" (not quite white, not quite red), now, with its tendency towards drier, more modern styles, its trendy millennial pink hue and recent rebrand as a sophisticated choice in its own right, rosé has seen a huge surge in popularity.
And despite its current status as the "it" drink among social media influencers, rosé is no new kid on the block.  In fact, it's actually one of the oldest types of wine on record.
New World or Old World Rosé – what does that even mean?
Fun Fact: most quality Rosé Wine these is either made from Grenache (typically "old world" styles) or Pinot Noir ("new world" styles).
Old World = Europe, the original home of viticulture
New World = Everywhere else!!  The Americas, South Africa, Australia, NZ, etc
The historic centre of rosé production is Provence, France, where some of the world's best rosé is produced. Pale salmon hued Provençal rosé is made to pair with food and known for being bone dry. It is typically made from grenache blends, showing notes of strawberry and rose petal.
Pinot noir rosé is highly regarded for its fruit forward characteristics, as well as a bright acidity – it can be complex or delicate, with notes of strawberry, apple and watermelon.  Pinot Noir rosé is approachable and easy to drink with or without food. 100% pinot rosé is commonly found in new world regions like Australia and California.
And it goes without saying that the best Pinot Noir Rosé come from those regions that excel in the production of Pinot Noir… like Geelong for example (just sayin'!).
So to find out more about this wine, we had 10  of your most popular questions answered below.
Want to become the rosé expert? Then read on.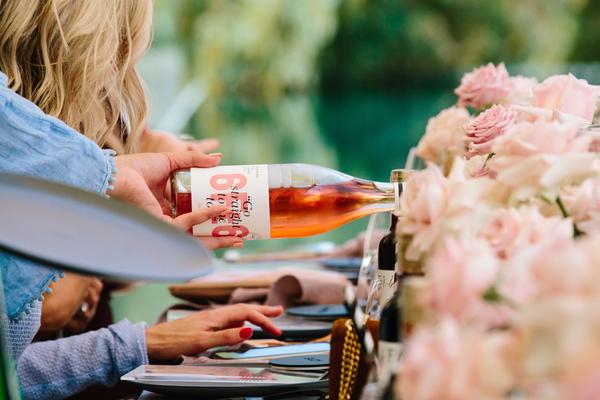 1. Why are some rosé's sweet and others are dry?
Depends on what style your looking for savoury (food wine) or sweet (drinking wine). To create sweetness the fermentation is stopped early with a combination of cooling and preservative to retain natural sugars. Our rose is fermented to dryness for a more savoury style to complement food etc. We still ferment cold and have good quality fruit which creates fruit flavour sweetness without the sugar for drinking on its own.
2. Is rosé a red or white wine? What wine variety is it?
Rose is made from red wine grapes. The main variety in the 6Ft6 rosé is pinot noir (red wine). A small amount of alternative varieties are also used to build complexity and a more interesting flavour profile.
3. How is rosé wine made?
Rosé gets its distinct pink colour through a process called "maceration" (the traditional and most common way to make pink wine). Red grapes left to soak ("macerate") with their skins for a short period (ranging from a few hours to a few days) until the juice turns a subtle pink colour. The grape skins are then removed, and the juice continues to ferment like a white wine. The wine will get darker the longer the rosé is left on the skins. This is why rosé wines can range in colour from pale blush to bright pink.
Like most white wines, rosés are best served chilled and enjoyed soon after release.  These babies are made to be consumed young, so don't hide your pink wine away in the cellar, put it straight in the fridge for this Friday night (or better yet… tonight!).
4. The difference between white Shiraz or rosé or are they the same thing?
White shiraz is the same as rose. Another popular rose is white zinfandel.
5. Which grapes are typically used? Is it usually one variety or a blend? 
You can use any red variety for rose. Different varieties impact colour and flavour differently. Eg pinot noir will produce are more copper colour than shiraz which is naturally more pink. Grenache and pinot noir roses are usually more fruitier than sangiovese and cabernet which are usually dryer and more savoury.

6. What meals does rose go well with?
Rose is a very versatile wine to pair with food as it usually does not have too strong flavour and good acid to cleanse the palate.
Our suggestion for 6ft6 Rosé is to eat it with a charcuterie board, perfect with a salty prosciutto and creamy goats cheese. Also delicious with fish tacos ( find the recipe below)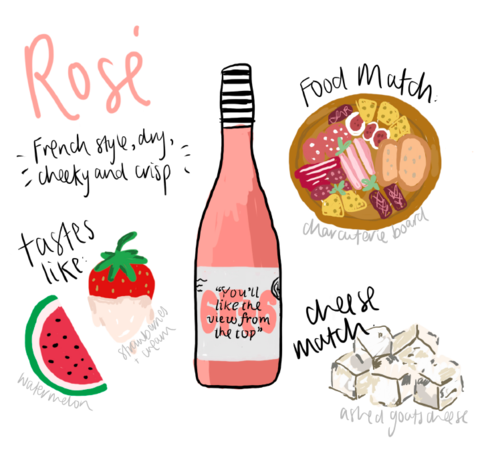 7. What makes it sweet or dry? Can you tell by the colour?
Check the alcohol. If it is around 12% or higher it is usually dry. Lower alcohol means that some sugar has been left and not fermented to alcohol (sweet).
The colour is only an indication of how long the juice was in contact with the skins, not an indication of sweetness.
8. Ice in rosé – right or wrong?
Ice is ok to chill down wine fast but it will dilute the flavours as it melts.
9. At what temperature should you serve rosé wine?
We recommend serving rosé at 7 degrees celcius. This is only slightly warmer than the average fridge temperature, so straight from the fridge is best. 
10. How do you make frosé?
We have tried and tested many frosé recipes and the best one we have found is this: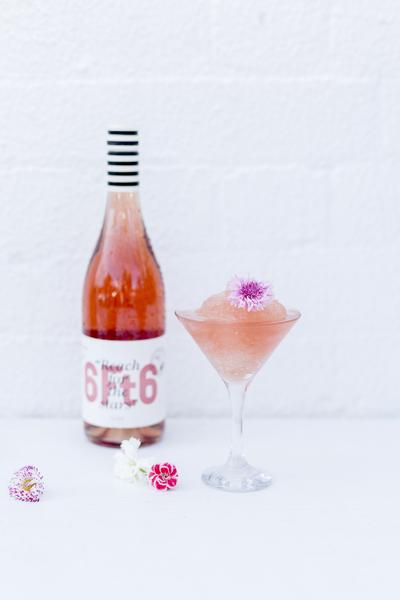 Frosé recipe
Ingredients:
1 bottle of 6Ft6 rosé

150ml vanilla sugar syrup

 (or sugar syrup and vanilla essence)

150ml water

Strawberries or persian fairy floss for garnish
Method:
Pour rose,  vanilla syrup and mineral water into a jug and stir

Pour mixture into a zip lock bag and place into the freezer for at least 6 hours

Put mixture into a blender and puree until it becomes an icy consistency (if you don't have a blender, pound the zip lock bag onto the bench a few times but make sure it is closed!)

Divide between glasses and garnish with a strawberry
For a match made in heaven… we recommend serving 6Ft6 Rosé with our favourite FISH TACOS
Fish Tacos Recipe
INGREDIENTS
450g white fish (Basa or similar)**
Cumin
Salt
For the slaw 
2x cups slaw mix (buy it ready chopped from Coles, we're not on MasterChef here)
1x tbsp Olive oil
1x Lime (juiced)
1/4 cup chopped coriander
Salt & pepper to taste
 For the sauce 
1/4 cup sour cream
1x tbsp chipotle mayo
1 tbsp lime juice
Salt to taste
Serve with
Flour or corn tortillas
Lime wedges
Queso fresco
Avocado
DIRECTIONS
For the slaw: mix olive oil, lime juice, salt and pepper. Toss with the slaw mix, add coriander and stir. Keep refrigerated until ready to serve.
For the sauce: mix sour cream, mayo and lime juice, stir and salt to taste.
Fish: Season the fish with salt, pepper and cumin. Coat a pan (or BBQ) with olive oil and fry on a medium heat until cooked through.
Assemble your fish tacos, pour yourself a glass of rosé and enjoy. 
** For a Vegan friendly option – replace fish with roast cauliflower.  YUM!
Did your rosé questions get answered? If not, write them in the comments below and we can answer them for you.