What is prosecco? The Ultimate Guide to the World's Favourite Sparkling Wine

What is prosecco? The Ultimate Guide to the World's Favourite Sparkling Wine
And how to make the most delicious prosecco cocktail
There is nothing quite like a cold glass of bubbles shared with friends but the the choice at the local bottlo can be overwhelming. With so many sparkling wines, how do you pick the best? Well, we believe that there is one player that is at the front of the pack… prosecco!
By the end of this article you'll be sounding like a true wine connoisseur in no time.
We've also compiled the best prosecco and food matches, as well as a cocktail recipes to try at home.
Let's go!
What is prosecco wine?
Prosecco is a sparkling wine and originates from the Italian village of Prosecco. It was first commercially planted in the King Valley, by the Dal Zotto family over 20 years ago.
Italian producers are currently trying to claim exclusivity to the word 'prosecco' so that no Australian Producer can use. A similar scenario to what happened with the word 'champagne' in 2006. You can read more about the Prosecco name battle here. 
How is prosecco made?
Prosecco is made similarly to wine, with the bubbles then added in a steel tank before bottling. This is called the 'tank method' and is the secondary fermentation. The tank method is a much more efficient secondary ferment method than the 'traditional method' used in champagne.
Below are a few visual diagrams from wine folly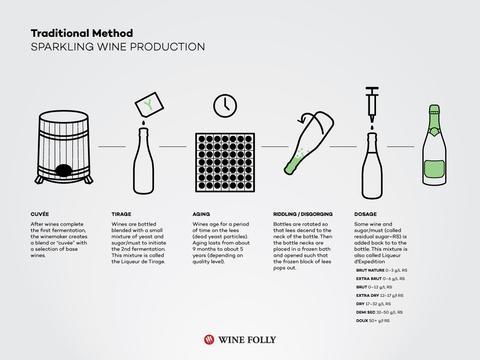 How do you keep prosecco fizzy?
Well, we thought long and hard about this, as we don't think the old silver spoon-in-the-bottle trick works. So, instead of wasting time on old wives tales, we bottled our prosecco in a screw cap (the first Australian prosecco to do so… you're welcome). The fizz remains intact for your next tipple (just don't reopen in 20 times or leave it for a few weeks).

The Prosecco Facts and Figures
Annual Australian prosecco sales have increased significantly and once you taste it, you will understand why.
Prosecco is affordable and versatile and that's why it's knocked champagne off the podium place as the world's number one selling sparkling wine.
According to the Financial Review annual Australian sales have soared 50 per cent to $60 million.
Australians are the seventh highest consumers of prosecco in the world. Italy, UK and the USA are the top three.
25.2m cases of prosecco are produced worldwide each year
Prosecco is actually a place in Italy and where the wine originated from
The first version of prosecco was made in 1868
Prosecco vs Champagne – is it really that different?
Let's look at the key differences:
Italy vs France: prosecco originates from Italy, and champagne originates from France.
Grapes: prosecco uses its own variety of grapes and Champagne can use chardonnay, pinot noir or pinot meunier grapes.
Secondary Ferment (to get the bubbles): prosecco is made using the 'tank method' and then bottled. Whereas Champagne is made using 'traditional method' – a lengthy process where fermentation takes place in the bottle.
Taste: Prosecco is a slightly sweeter, more vibrant and fruitier sparkling. Champagne is a little dryer, more acidic and has flavours that are toastier.
Food Pairing: Prosecco is ideal with cured meats and sushi. Champagne is ideal with fried foods or shellfish (and potato chips!).
Cost: Prosecco is a much more affordable alternative to champagne.
Our verdict
There is nothing like the sound of a popping champagne cork to to celebrate a special occasion. For the everyday bubbles or for experimenting with wine cocktails, you can't go past prosecco.

What should you pair with Prosecco?
What to eat, wear, watch and listened to – the 6Ft6 take on wine pairings.
Wine is all about a lifestyle here at 6Ft6, so we have created the best prosecco and life pairings, from music to fashion and everything in between.
Ubereats Match: Milk the Cow
Spotify Playlist Match: Young, Wild and Free
Fashion Match: Mister Zimi, Skwosh
Perfect Food Date: Oysters
Ultimate Cheese Match: Camembert
Netflix Match: Queer Eye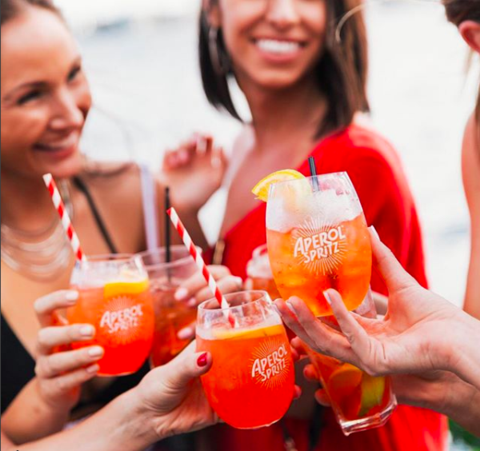 The worlds most popular prosecco cocktail
Any guesses as to what the world's most popular prosecco cocktail is? if you answered aperol spritz, you are correct… gold star for you!
This aperol spritz cocktail originates from Italy and is summer in a glass. A refreshing citrus based cocktail best enjoyed in the sun with friends.
How to make an Aperol Spritz
INGREDIENTS
60ml Aperol
90ml 6Ft6 prosecco
30ml soda
ice
METHOD
Place aperol, prosecco and soda in a large wine glass
Fill the glass completely with ice.
Finish with a wedge of orange.
Yep that is it, it is so easy and delicious.

Want Prosecco Cocktail recipes to your inbox? We've got you covered
We've done the tasting for you and picked our top wine cocktail recipes for our Little Black Book of Cocktails. 
The prosecco cocktail recipes in our book include:
Prosecco Margarita
The Hugo – Prosecco, elderflower and mint
Prosecco Jelly/gummies.
Fizzy floss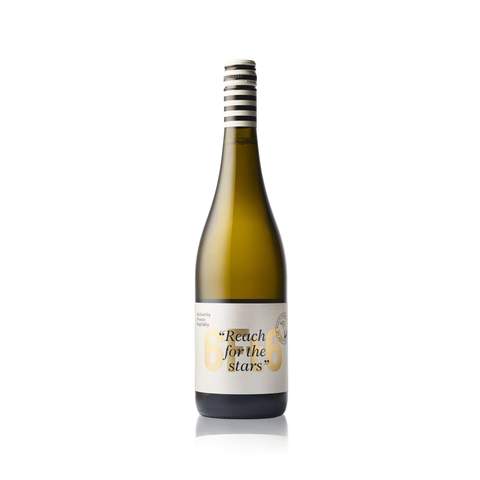 6Ft6 Prosecco – what does it taste like?
Prosecco how it should be; light, crisp and clean with citrusy lemon curd, pear and honey notes. It has a fresh, sherbety mouthfeel that's smooth and balanced. True to style, this is seriously uncomplicated yet highly drinkable bubbles.
Bring these bubbles to any celebration. Vibrant and refreshing, our 6Ft6 prosecco is delightful to drink and perfect to share. This dry Italian style sparkling wine is a great aperitif, or when combined with your favourite ingredients, creates a delicious cocktail. Just try this, serve over lemon gelato for an irresistible treat.
Region: King Valley, Victoria
Alc./Vol.: 11.0%
Vegan: Yes (find out what makes our wine vegan here)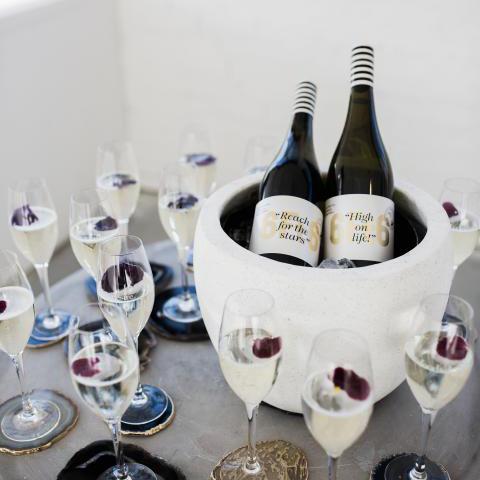 Where can you buy 6Ft6 prosecco wine?
You can buy your soon-to-be favourite bottle of bubbles throughout selected stores in Australia (view our stockists here) . We have recently been stocked in over 120 BWS stores throughout Victoria, too! If your local doesn't have it, ask them to get it in, or contact us for your nearest store.
Buy online
You can also buy prosecco online from our store here and if sign up to our email list, you will regularly receive great offers and extra merch.
So what are your bubbles of choice?
Have you discovered prosecco and prefer it to champagne? We would love to know, comment below.
If you liked this post, please share it on your socials.