Women we love – Lydia Latta from The Hermosa Co.
Lydia is the founder of The Hermosa Co. A beautiful clinic, lovingly designed for pregnancy, postpartum & womens massages and facials. Creator of natural self car products and started the #hermosabody movement celebrating beautiful pregnant bodies.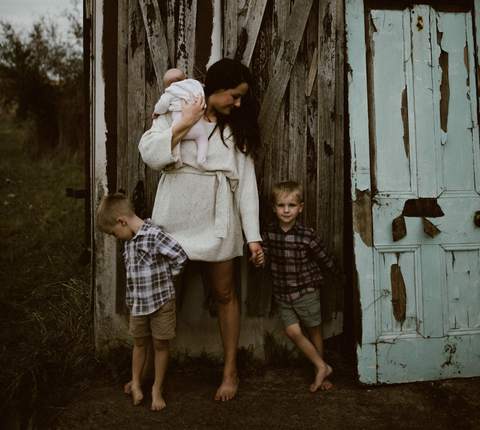 The Hermosa Co. – Lydia Latta
We are currently celebrating Mothers and what better way than to talk to an inspiring business woman who's core business is to support new mothers.
When and why did you start The Hermosa Co? 
I started my business in 2006 and originally it was a small space set up to pamper pregnant and new Mamas. Slowly The Hermosa Co just kept evolving and the growth and product line was influenced by what the Mums were asking for. Originally I would just make the products for a few of my clients and then the demand was there to launch my range. I was a new mum to twin boys and I have always had a passion for creating nurturing spaces and treatments and after going through my own journey to motherhood I realised this was a time in a woman's life I felt I really connected with and I wanted to be able to give mums experiences and products that I knew would support and nurture their journeys.
Not only do you create your own products to pamper mothers and women alike, you also have a clinic. Can you tell us a little bit more about your clinic and what you offer? 
This is a beautiful space think exotic smells, warm towels, soothing music matched with an indulgent and nurturing massage. I furthered my studies so that I could really make sure I was confident with the positioning and treatments I designed for pregnant, postpartum and Mums. I love the change in each woman I treat from the consult to when she leaves. Like all Mums we tend to never really switch off and probably don't commit enough time to ourselves so I know how much it means for her to take that 1hr or 1.5 hrs. I love watching each woman slowly switch off, relax and then float back out after their treatment.
What is your suggested pamper routine for a woman who needs some down time? 
For me it would be making time for a massage and then trying to finish my day as calmly and relaxed as possible. After I get all the kids down and if I am in need of a pamper I light a candle, have a bath with lots of magnesium salts and beautiful oil, pop and face mask on, some music and have a cup of tea. Fresh Pajamas and sheets also make me feel a million dollars 😉
You are a woman with children and running a business, what are your top tips to help other parents that are juggling work and home? 
It is a real juggle and for me I had to start putting boundaries around working into the night after the kids go to bed. I have had to learn to ask for help, I think sometimes as working mums we can put so much pressure on ourselves. I am so lucky to have family support and also a really good team. Finding the right people to put in your business is really important. I try to be organised with our meals as eating well and exercise is important to me to keep a clear head and to keep my energy up for the kids and my business. My kids are all under 5 and that age I find they really just want your love and presence, so really not getting to hang up on all the external pressures and just taking my time to be slow and present with them has been important. This period of them still being home and quite dependent on you isn't forever and I never want to regret not making enough time to soak it up.
Your annual campaign #hermosabody is a beautiful way to celebrate the pregnant form, what inspired you to start this campaign? 
I adore the beauty and magic of pregnancy and I find sometimes we can be quite critical of our changing body. I wanted to create and experience and imagery that allowed women to showcase and embrace this beauty. It is honestly the most amazing day and watching these women create such gorgeous bonds is magic. I actually participated last year when I was pregnant with Vera, this was a little out of my comfort zone but it was the most empowering and beautiful experience.
If you could travel back in time, what would be your top three pieces of advice you would tell yourself before starting the business? 
Don't get too caught up on a business plan and long term goals. It's great to have a vision but I have found it so amazing all the opportunities and different avenues that have opened for me as I have allowed the business to develop and grow organically. I am quite a planner but I have actually enjoyed just evolving with my business.
Follow your gut and your heart, success (in whatever form that means to you) comes so easily when you are following your passion and stick to your values.
Take a little time to yourself, always.
Chocolate or Cheese? 
Cheese, a cheese board is one of my favourite meals
And finally, which one of your products best describes you and why?
The Room Tonic, I am a lover of good smells.  So many of my beautiful memories are linked to certain smells or perfumes I may have been wearing around that time. I wear a scent to bed, my house always smells good and I love using the room tonic in my treatments. If I was down to my last dollars I would go without food for good perfume, I am a sucker for scents.
You will find the The Hermosa Co Soak in our latest Mothers Day Gift Packs.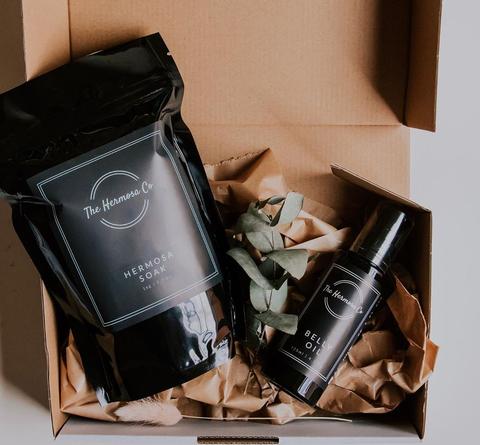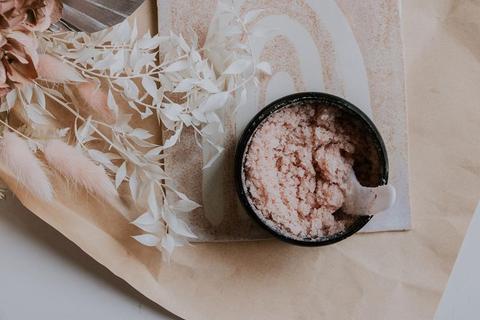 Other 'Women we Love' Blogs:
Jemima from Kingston Jewellery