Halliday Wine Companion Ratings
Our 2020 Gold and Silver awards aplenty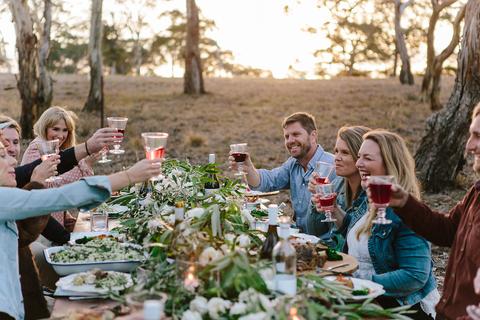 Each year we await for our ratings in the James Halliday Wine Companion, the wine rating bible in the Australian wine world. It is a great way to get ratings year on year for a benchmarking assignment for your own wines as well as others. The Moorabool Valley region has a collection of highly rated wineries and wines. 
5 red star winery
We have maintained our 5 red star winery rating for the third year running. What does this mean? It simply means an outstanding winery regularly producing wines of exemplary quality and typicity. Will have at least two wines rated at 95 points or above, and had a five-star rating for the previous two years. This applies to 232 wineries in Australia, the top 7.7%%.
What do the ratings mean?
First an understanding of what the ratings mean.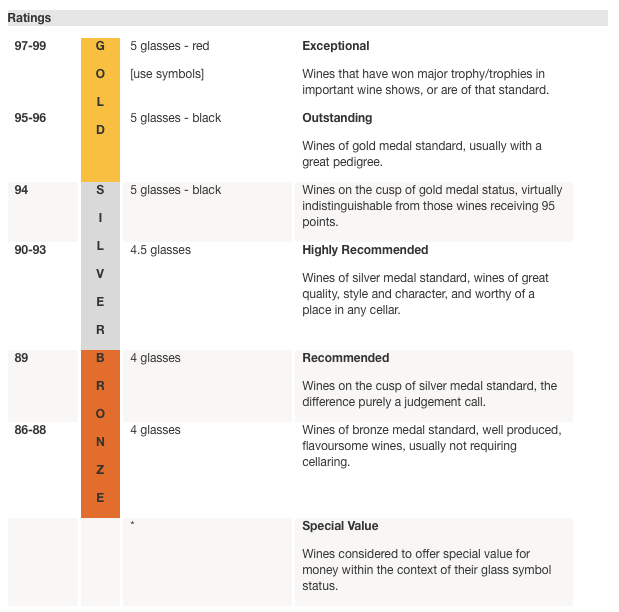 Our 2020 ratings:
(Please note the release date for some of the wines will be October.)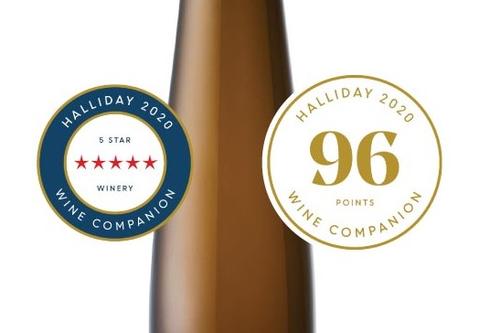 Austin's Late Harvest Riesling 2018 –

96 Points (Gold) – release date Oct 2019

This estate has a fine hand with riesling and the vineyards are clearly well situated, attesting to the superlative fruit. Lightweight, balletic, a whisper across the palate until the high wired acidity and mineral crunch unravels to reveal lime curd, ginger, marmalade, quince and tonic, all exploding across a rapier-like finish of precision and savour. – Ned Goodwin

Our Austin's Late Harvest Riesling made the 'best of list – Sweet wine'. That's right, it is in the top three sweet wines in Australia.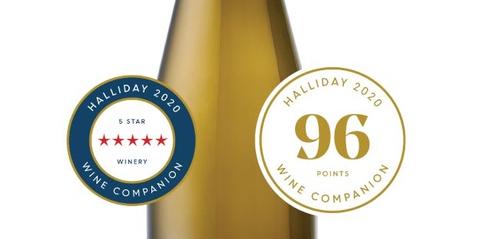 Austin's Riesling 2018 – 

96 Points (Gold) – release date Oct 2019

This is exceptional riesling. Juicy and taut. Crunchy, yet free flowing. Nothing hard or abrasive about its pH/acidity. Just a waterfall of lime, quince, blossom and apricot pith notes, punctuated by a slate-like minerality. Effortless. Filigreed. Balletic. Long. I could drink a great deal of this. – Ned Goodwin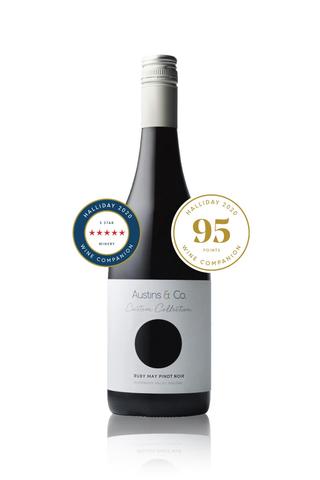 Austins & Co. Ruby May Pinot Noir 2016 – 95 Points (Gold) – contact us to purchase
33% whole-bunch, cold-soaked for 4 days, before regular plunging across time on skins. The result is a sturdy pinot of ample fruit and ferrous structure. Notes of clove, cardamon and turmeric meld to accents of freshly crushed strawberries and strewn peppery herb. This is delicious. Everything is in place. Power and grace in the glass. – Ned Goodwin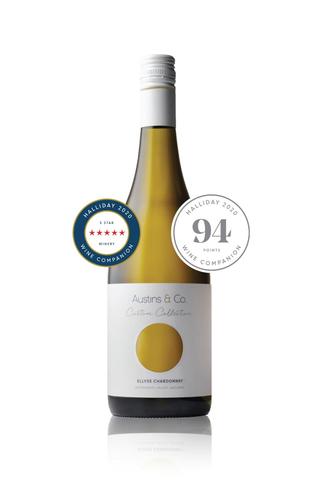 Austins & Co. Ellyse Chardonnay 2017 – 

94 Points (Silver) – contact us to purchase

Hand-harvested fruit across a moderate, attenuated growing season was fermented wild in French wood, 50% new. Stirred regularly, malolactic conversion was blocked in the name of acid retention. Worked. The final blend was a 'best of the best' barrel selection and good it is, too. Oatmeal, porcini, hazelnut and earthen notes offset brighter nectarine and caramel vanilla allusions. At once rich and fresh, with citrus peel acidity pushing it long. – Ned Goodwin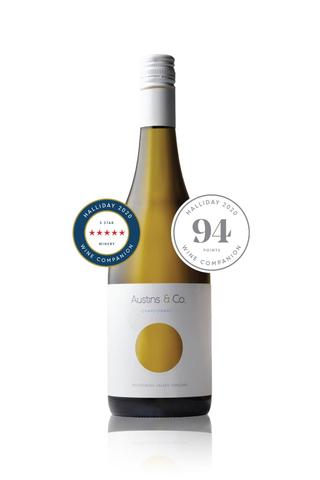 Austins & Co. Chardonnay 2017 – 94 Points (Silver) – now available (BUY HERE)
From different batches of fruit and less new oak than the top Ellyse cuvee. Otherwise the handling is almost identical; the wild yeast pungency serving as less of a carapace to the fruit. Cashew, hazelnut, nougat and vanilla meld with tangerine, orange zest and stone fruit suggestions all. The acidity is vibrant and the carriage to exceptional length. – Ned Goodwin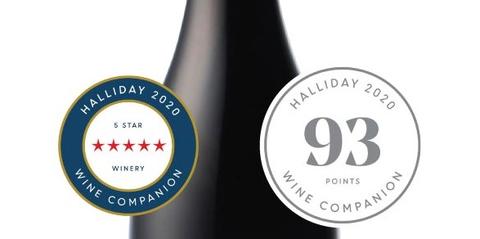 Austin's Shiraz 2017 

93 Points (Silver) – release date Oct 2019

A cool climate shiraz that is peppery, creamy and ample of boysenberry to cherry flavours all at once. Fermented in open-top oak and steel vessels before racking to barrel (40% new) for malolactic conversion, the result is rich, yet dutifully fresh and poised. The tannic extraction across the top wines at this address is largely exemplary. Souk-like spice and a whiff of menthol add further intrigue.- Ned Goodwin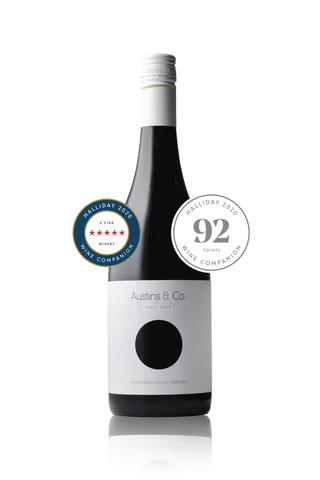 Austins & Co. Pinot Noir 2017 – 92 Points (Silver) – now available (BUY HERE)
A meld of clones, partially wild-fermented, this is a juicy, strongly regional pinot. Sarsaparilla, Indian spice, ripe strawberry and ferrous menthol notes unravel across an undercarriage of chalky tannins-grape and oak. Sappy length. – Ned Goodwin  
Our 6Ft6 Ratings:
Picked a little earlier than usual to mitigate the relentless heat of the vintage, this mid-weight, plump chardonnay was fermented under the aegis of wild yeast in a combination of cement eggs and hogsheads. The wine was then left unracked for eight-months. The approach has conferred breadth, considerable detail and a pungent leesy tension that sluices across the mid-drift, honing stone fruit, cashew cream and nougat into form, guided further by vanillin oak and a saline stoniness. Strong apricot pith and blossom accents are reminiscent of viognier yet this is surely the vintage talking. – Ned Goodwin

6Ft6 Sauvignon Blanc 2018 –
92 Points

(Silver) – SOLD, 2019 vintage now available

A meld of ferments, both inoculated in tank, together with a wild-fermented portion. The result is grassy and fresh, with a resinous depth and additional complexity imparted by the oak. Salty, herbal and long, with ample guava and greengage scents sign-posting the variety. – Ned Goodwin

Very good full crimson-purple colour; a medium to full-bodied shiraz with black cherry, plum and blackberry fruit adorned with black pepper and spice, oak not obvious. The tannins are ripe, and the wine will greatly improve with 5+ years in bottle. – Ned Goodwin

Lemon verbena, nashi pear and ripe apple scents cascade across some juicy froth, gentle acidity and je ne sais quoi crunch. What's not to like? – Ned Goodwin

6Ft6 Rose 2018 –
90 Points

 (Silver) – SOLD, 2019 vintage now available

70% pinot noir, 20% gamay, 10% shiraz. Pale salmon-pink; a spicy, juicy, red berry-flavoured palate is attractive, on the cusp of dry and off-dry. – Ned Goodwin

6Ft6 Pinot Noir 2017 –
89 Points

– SOLD, 2018 vintage now available

A robust pinot noir, surprising given its modest alcohol, and the '17 vintage. It falls away on the back-palate and finish. I'd like to think it may improve with time, but it's hard to see. – James Halliday