Our Ratings in the 2019 Halliday Wine Companion

Gold and Silver awards a plenty
Each year we await for our ratings in the James Halliday Wine Companion, the wine rating bible in the Australian wine world. It is a great way to get ratings year on year for a benchmarking assignment for your own wines as well as others. The Moorabool Valley region has a collection of highly rated wineries and wines. 
5 red star winery
We have maintained our 5 red star winery rating for the third year running. What does this mean? It simply means an outstanding winery regularly producing wines of exemplary quality and typicity. Will have at least two wines rated at 95 points or above, and had a five-star rating for the previous two years. This applies to 232 wineries in Australia, the top 8.2%.
What do the ratings mean?
Our 2019 Ratings:


First an understanding of what the ratings mean.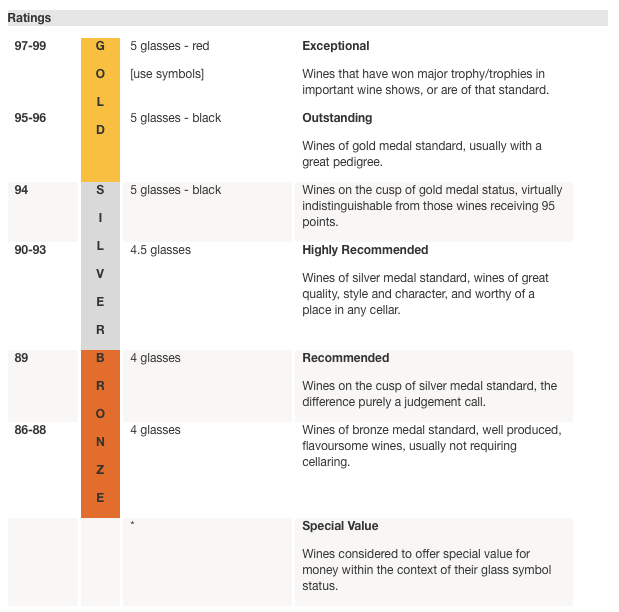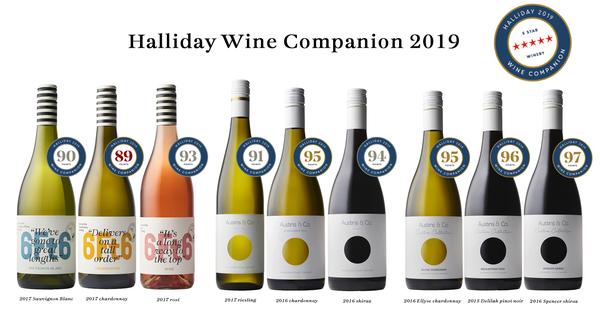 6Ft6 Collection
Halliday – Night-harvested, pressed, the pressings kept separate, 33% of the clean juice fermented in tank with sauvignon blanc yeast, 33% wild-fermented in barrel, the batches blended after fermentation and kept on light lees until bottling in Aug. Neatly made; more than anything else, you taste the vibrant dry finish, the mid-palate quietly offering lychee and guava.
Rating 90/100
Date Tasted:
Drink By: 2021
Fresh, supple, lively stone fruit and citrus flavours – seemingly unoaked.
Rating – 89/100
Date tasted: 2/3/18
Drink by : 2021 
6Ft6 2017 Rosé – 93 points (silver) – SOLD OUT. 2018 available. 
87% pinot noir wild-fermented in tank, blended with 13% free-run shiraz and matured for 5 months. A rose that is jumping out of its skin, cherry blossom and rose petals, a third ingredient taking shape on the nervy palate with its piercing flavours of sour cherries, fraises du bois, and a flick of citrussy acidity. Obviously enough, the finish is dry.
Rating – 93/100
Date Tested: 2/3/18
Alcohol: 12.5%
Drink By: 2019
Austins & Co. Collection
Geelong isn't exactly the right region for riesling, but the cool '17 vintage was tailor made for the variety, the wine with intense lime/Meyer lemon fruit and crunchy acidity.
Rating – 91/100
Date Tested: 2/3/18
Alcohol: 12%
Drink By: 2023
Wild-fermented in barrel, a small portion undergoing mlf, extended lees contact. An elegant wine, the winemaking sensitive to the fresh fruit blend of white peach, apple and grapefruit. Thoroughly elegant chardonnay.
Rating – 95/100
Date Tested: 18/10/17
Alcohol: 13.5%
Drink by 2023
Hand-picked, open-fermented, 15% whole bunches, matured in French oak (15% new) for 18 months. Full purple-red; a complex, layered, full-bodied cool climate shiraz, its character and quality largely derived from the vineyard. It's at the start of a long life riding on the back of vibrating black fruits and ripe tannins.
Rating – 94/100
Date Tested: 2/3/18
Alcohol: 14.5%
Drink by: 2036
Custom Collection
Named after Richard and Pamela Austin's first grandchild, Ellyse Chardonnay is only made in the best vintages. Hand-picked, pressed straight to barrel for wild fermentation and maturation before the best barrels were selected and blended. Very developed given its youth, although it is bright straw-green; the bouquet and palate dismiss any thought of premature development, the palate in particular elegant and bordering on frisky. The flavours are of lemon curd, white peach, melon and gently toasty oak.
Rating – 95/100
Date Tested: 2/3/18
Alcohol: 13.5%
Drink By: 2021
Hand-picked, 100% destemmed, 4 days cold soak, open-fermented, matured in French oak (33% new) for 12 months. Bright, light, clear crimson; the vinification has drawn out every ounce of aroma and flavour in a spicy red fruit palate of exceptional intensity and length. A delicious pinot.
Rating – 96/100
Date Tested: 18/10/17
Drink By: 2030
2016 Spencer Shiraz – 97 points (gold) – not yet released. Find our 2015 here

The far greater quality of this wine than its sibling is in part due to fruit selection in the vineyard, and a more complex vinification, the key points 9 months maturation in French oak (35% new), preceded by 9 months maturation in concrete eggs. You skip over the 15% alcohol, the wine finer and more intense, and extreme length to its spice-ridden black cherry and licorice fruits.
Rating – 97/100
Date Tested: 2/3/18
Alcohol: 15%
Drink by: 2041
Are you an Austins or a 6Ft6 wine lover? share the results on your socials. Cheers!