Notel Melbourne – our review of the airstream hotel
The Airstream Hotel in Harper Lane.
Edit: We are super excited to announce we are now a partner of Notel Melbourne! After we wrote this blog Notel got in touch and we decided this was a collaboration we couldn't pass up. So every Notel booking receives a full bottle (yes, you heard right!) of Prosecco when they stay onsite and what's even better, friends of 6Ft6 will receive $25 off! Simply enter '6Ft6ATNOTEL' at checkout*
The ultimate Melbourne Getaway
If you want to get a dose of Melbourne culture, a night away at Notel is an essential item to have on your to-do list. This modern place to stay is on a rooftop in Flinders lane and consists of 6 renovated Airstream caravans; each with a queen size bed, large bathroom and an outdoor deck to soak up the rooftop atmosphere. There is no lobby, pool, gym or extra costs, its not a 'hotel' but rather, a unique experience in the heart of the city. It sits above a great hole-in-the-wall Melbourne cafe (and yes you get bottomless coffee included with your room) and is a short walk to some of Melbourne's most popular places to eat and drink. 
This is not a place to come if you want pampering and access to hotel facilities (room service, a porter and buffet breakfast) but we think there is some bonuses that we haven't every experienced at any hotel.
Here is a list of our highlights and inclusions:
Valet parking.

No signage, just a hidden location for a true Melbourne laneway vibe.

An app on your iPhone as the key/access to your room (very tech savvy!).

Free mini bar with a full bottle of 6Ft6 Prosecco.

Free mini bar

(just in case you skipped over the previous point).

A comfy bed with the lushest sheets by Ettitude we have ever laid in.

A large shower head that was seriously amaze.

Free mini bar.

Cool artwork by Ash Keating adorning the wall of the hotel

Large iPad with unlimited Netflix, and really cool stands for you to place it above the bed (we now want a TV on our bedroom roof, thanks Notel).

Other goodies – we had free passes to Holey Moley mini golf, bottomless coffee and there was a printer for the pics you have taken on your phone. 

There is even a room with a hot tub

Yummy toiletries and lush towels

Private outdoor spa if you book the airstream with benefits
and yes they are airconditioned!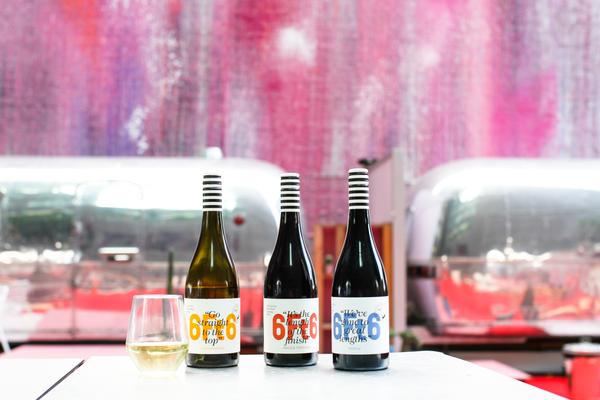 The Details
They have also done the hard work and found the best spots to eat, drink and party to live like a local. 
Plan your journey here.
If you want your own night or weekend away, 
book your stay
 and enjoy a unique night away. 
Please know that we paid for our room, this isn't sponsored in any way. We simply feel it is a duty to let you know of the best places to stay in Melbourne… we've been to a few and this experience was a definite front runner. We will not discourage you from telling Notel that you heard about them from us though, because we really want another night with a free mini-bar. 
*Not available for Saturday nights, or for Airstream with benefits.