Sale!
SALE WINES – Prosecco Rosé & Shiraz
What is better than wine? Wine on sale.
2023 hasn't been our greatest friend for online sales, so we have a few items we need to clear. You get delicious wine at a great price, we get to make space in our warehouse, it's a win-win for both of us.  Quality wines, 40% off, for a strictly limited time.
$15 per bottle with a minimum 12 bottle purchase. Purchase 12  bottles of Prosecco Rosé, Shiraz or a mix of 6 of each for $180.
Price includes delivery to most metro areas in Aus. 
No further discounts apply to these products. We reserve the right to refund if a coupon is used.
Tell me about the 6Ft6 Prosecco Rosé

If you like a drier prosecco with subtle notes of strawberry and berries, you'll love this prosecco rosé. Similar in structure and origin to its big-sister prosecco, it's also sourced from the King Valley and has a delicate pale salmon colour.
Prosecco Rosé Awards
86 Points – Bronze
A charming rosé, candy pink in hue. Candy floss and watermelon-bright in aromas and flavours, with a prosecco lemon-rind finish. Simple and tasty. – Jeni Port. Halliday Wine Companion
Prosecco Rosé's perfect food date
This is so versatile, you can confidently pair it with pretty much anything! The acidity means it pairs well with light dishes like salads, sushi, cheese platters or seafood. The drier aspect of prosecco rosé means it complements fried or even fatty food like chicken schnitzel, creamy risotto or even chocolate or churros for dessert.
Prosecco Rosé Tasting
Note
This is an amazingly delicate and floral prosecco rosé, with a punch of flavour. It has raspberry, honeysuckle with strawberries and cream on the nose. The mouthfeel is lively and fun, with some candied fruit characters coming through, combined with delicious vivacious bubbles. True to style, we have created seriously uncomplicated, yet highly drinkable bubbles. Vibrant and refreshing, our Prosecco Rose really hits the spot and is a summer specialty.
WINEMAKER: Dwayne Cunningham
REGION: King Valley, Victoria
MADE BY: Austin's Wines. Steiglitz Road, Sutherlands Creek
ALC/COL: 11.0%
Tell me about 6Ft6 Shiraz
We are partnered with Ruby Seven to raise funds for fara, a charity that funds research into FA — a debilitative neuro-muscular disorder with no known treatment or cure. Our owner Belinda's cousin Kellie battled with FA most of her life. Belinda grew up witnessing FA overtake Kellie's body, but not her bright mind. Sadly, at age 34 Kellie suffered a stroke due to complications from FA and passed away just before her next birthday. Belinda vowed to do what she can to help find a cure and treatment for this rare disease.
6Ft6 Shiraz Awards
90 Point Rating & Top Value Award
Vibrant purple young-wine colour; reductive and spicy/meaty, plummy shiraz aromas of fresh uncomplicated fruit. The wine is brightly fruity and simple, but pristine and charming, the tannins light and gentle, savoury finish, a lovely early-drinking light-medium weighted red. Modest length; great immediate drinkability.
– Huon Hooke, The Real Review
6Ft6 Shiraz Tasting
Note
This shiraz shows amazing colour and clarity, with deep crimson red and bright purple hues flashing. Hints of cardamom, spice and cinnamon on the nose, with a lovely herbaceous undertone. Delicious primary fruit characters of plum, blackberry combined with a hint of aniseed flavour give the wine depth and intensity. Finished with supple, fine grained tannins that help extend length to deliver an overall shiraz packed with body and flavour.
Region: Moorabool Valley, Geelong, Victoria
Vintage: 2022
Vineyard: Austin's Wines. Steiglitz Road, Sutherlands Creek
Alc./Vol.: 13.5%
Vegan: Yes
6Ft6 Shiraz perfect food date
Perfect with all things barbecued or slow cooked. Charred zucchini and broccoli, lamb shanks or beef short ribs. On a cold night, it pairs beautifully with baked potato and a big dollop of butter and sour cream. It complements all types of spaghetti bolognese, including rustic slow-cooked versions (or microwave packet meals — we don't judge).
Why 6Ft6 Wine?
The DMAC effect
Our winemaker, Dwayne (aka DMAC), is one helluva fusspot when it comes to quality, and it totally shows. We won't get too technical, but Dwayne has a persnickety way of wanting things [just so]. And you know what? You can't argue with results. Every business needs a stickler for quality like DMAC and we adore his attention to detail that makes our wines oh-so amazing.
The fun
For us, wine is about enjoyment — sharing a glass or two to connect with your special humans, and spoil yourself. Whether you are relaxing after a long day or partying with friends, we have the wine to match. We're not about being snooty, inaccessible or using confusing language. We're just an everyday farming family, making great wine and enjoying a few laughs along the way. Cheers to that, hey?
Vegan wine
Vegans, raise your glasses, because all of the 6Ft6 range is vegan, i.e. it's c-o-m-p-l-e-t-e-l-y free of animal products. You'd think wine, being made from grapes, is always vegan — but not so. Learn more about it here, on this creatively titled article 'Is all wine vegan friendly?'
The planet
We want to care for this planet — it's the only one with wine! Sustainability has been at the forefront of our business since we started in 1982. Working daily on the land, we see first-hand the effects of climate change, and it's devastating. We continually make improvements to ensure our footprint is kept to a minimum by:
replanting trees on our property—we have planted over 10,000 trees since 1990

using 100% recyclable packaging, which means our cartons are a little bit fugly but a lot more sustainable

investing heavily in irrigation systems and vineyard treatments such as straw and natural soils to reduce unnecessary water usage
So, when you buy from us, you buy a wine that's as good for the planet as possible.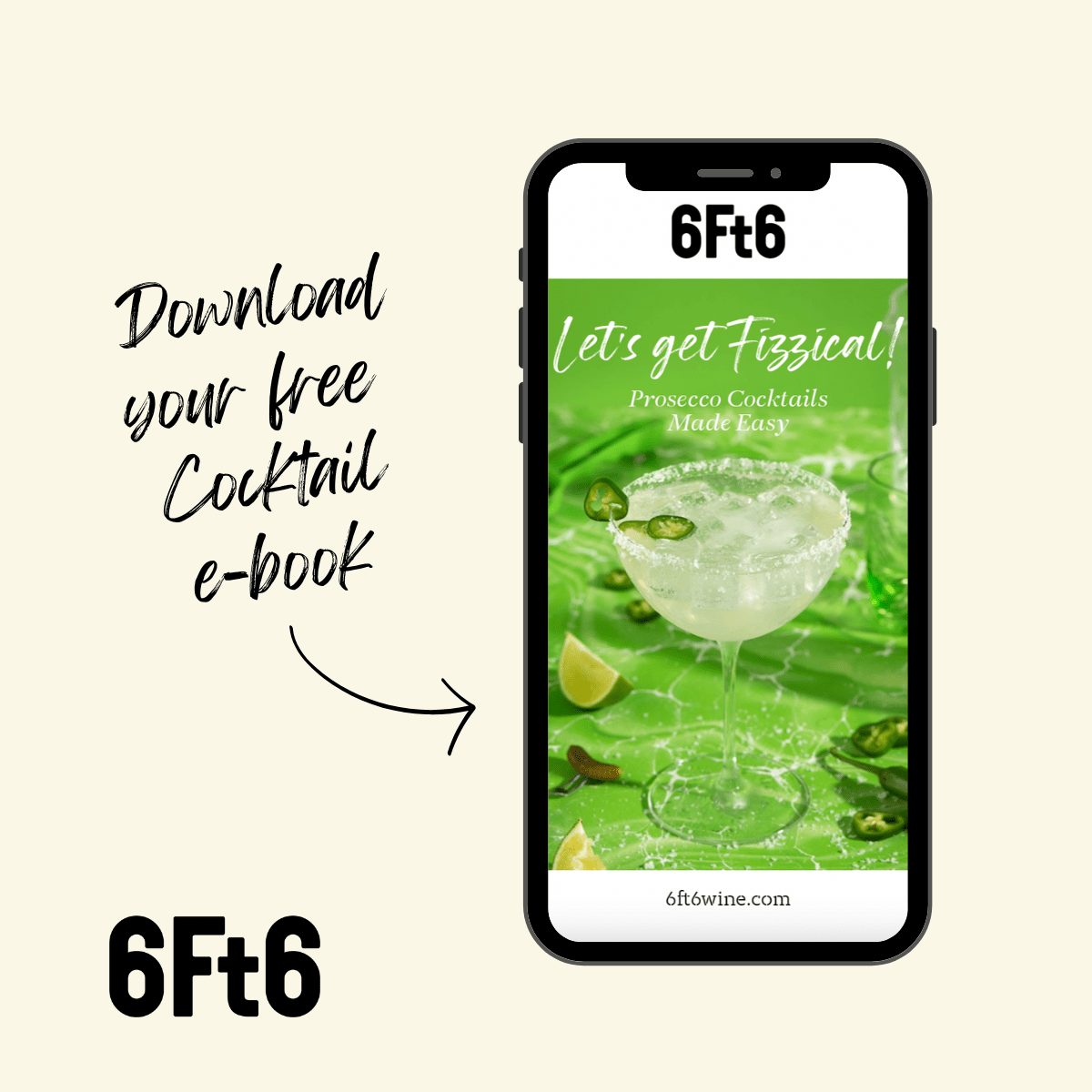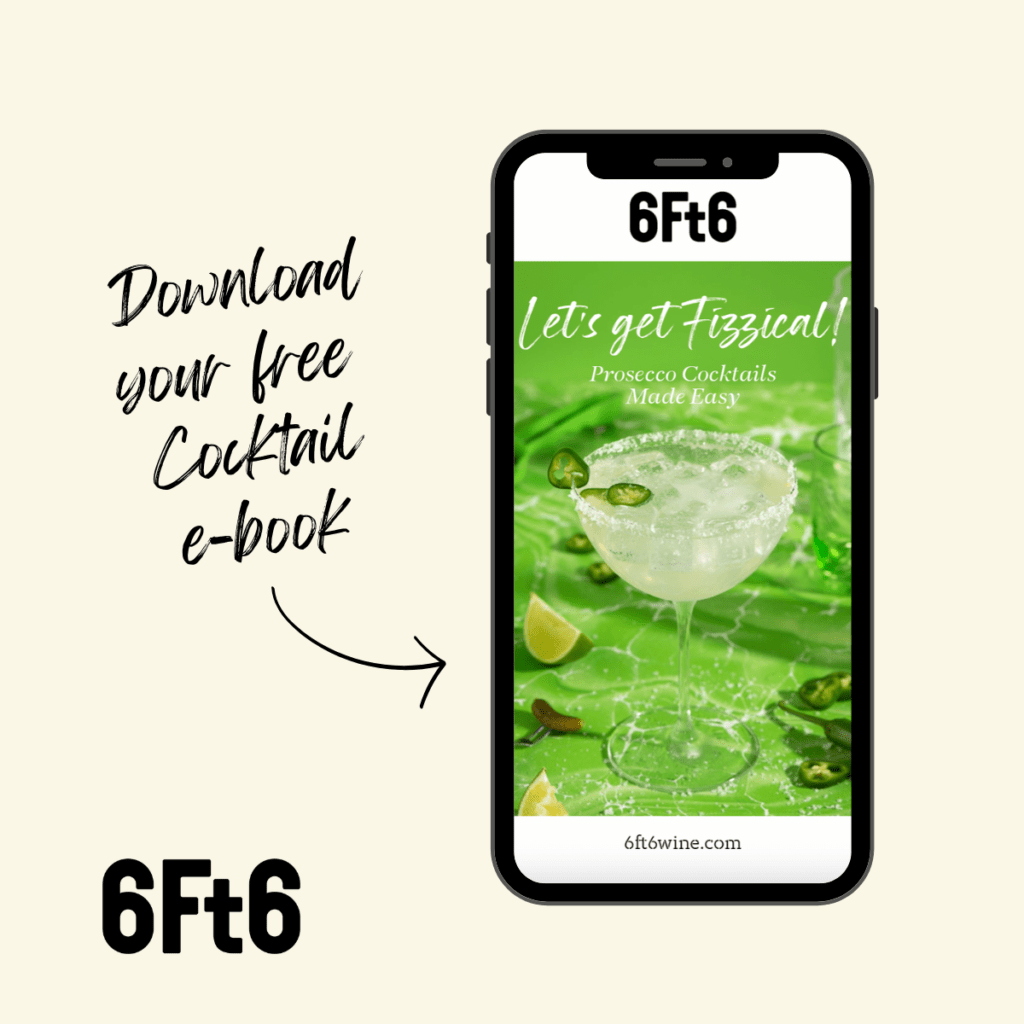 Check out our brand sparkling new cocktail book, Let's Get Fizzical. 10 easy and delicious cocktails that are sure to wow, all made with 6Ft6 Prosecco or Prosecco Rosé.
Discover a range of drinks that will effortlessly impress your guests and (more importantly) have them begging for the recipe.