Adele and Shane's Drunken Strawberry Vegan Brownies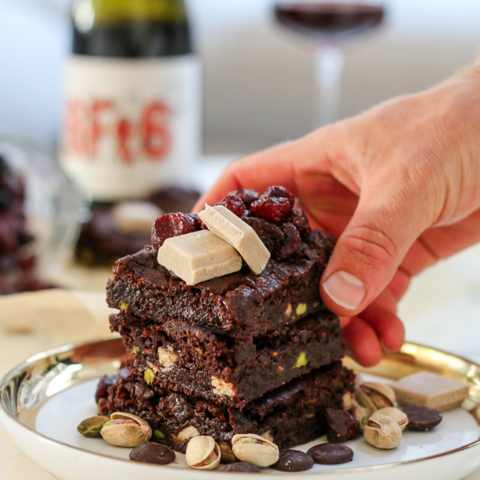 Vegan Brownie Recipe – with the added goodness of Pinot Noir!
Whether you're vegan or not, this recipe will have you salivating from the get-go. Strawberry Brownies, yes please. Drunken Strawberry Brownies now you're talking!
Adele and Shane – Plant based foodie destination
Adele and Shane are a hubby and wife duo from our hometown here in Geelong and have been eating a plant-based diet for over six years. They're the ultimate foodie destination for anyone keen to follow a vegan lifestyle or for anyone who just wants to give a plant-based recipe a go…
Shane is a qualified Chef and Adele is a little pocket rocket with a whole lotta gusto. They've got a cheeky competitive spirit in their household when it comes to cooking and we're all for it (Del, got your back girlfriend). They also use their passion for cooking for good, coming up with a concept called the Lasagna Project where they deliver a lasagna to a friend or family member for every lasagna they make for themselves. You all know how much we love sharing good food (and wine!).
So if you're looking for some vegan food inspo, check their website out here or follow their journey on Instagram here. Meanwhile, we are ALL for this brownie.
Vegan Chocolate Brownie Recipe with 6Ft6 drunken Strawberries
Ingredients
½ cup sweetened dried organic strawberries
½ cup 6Ft6 pinot noir (Geelong 2019)
½ cup vegan organic white chocolate (115g)
1 cup vegan organic dark chocolate buttons(225g)
½ cup raw pistachios kernels
2 tbs ground organic golden linseeds (flaxseed)
½ cup castor sugar(100g)
½ cup coconut sugar (100g)
½ cup vegan organic butter/margarine 'Naturli'(115g), melted/softened
1 tsp vanilla powder
¾ cup organic white flour(95g)
¼ cup cacao powder(30g)
1 teaspoon baking powder
¼ tsp Australian pink lake salt
Method
Soak the dried strawberries in the 6Ft6 Pinot Noir in a small bowl for 2-3 hours or over night.
Preheat the oven to 180°C. Line an 8-inch (20 cm) square baking dish with parchment paper.
Chop the white chocolate and pistachio kernels into small chunks. Set aside half of the dark chocolate buttons and melt the other half in a microwave-safe bowl for 45 seconds.
Make the flax egg by combining the ground flaxseeds with drunken strawberries and mix with a fork. Set aside for at least 10 minutes. The liquid will become gelatinous.
In a medium bowl, add the sugar and vegan butter and whisk until smooth. Then add the vanilla powder, flax/ strawberry mix, and melted chocolate and whisk until well-combined.
Sift in the flour, cocoa powder, baking powder, and salt and fold with a spatula until all ingredients are combined. Be careful not to overmix. Then, stir in the reserved chocolate pieces and pistachio kernels.
Pour the batter mix into the baking dish and smooth the top with a spatula.
Bake for 30-35 minutes, until a fork inserted in the centre comes out clean. Let cool for at least 20 minutes.
Slice into 9 equal-sized pieces and serve.