Here at 6Ft6 we are surrounded by so many incredible businesses that make working in our industry such a positive experience. Along the way we have formed relationships with the people behind the business giving us the greatest understanding of why they are successful in their own right.
Today, we take you behind the scenes with Hire A Kombi, a business run by power couple George and Alyce! We were so lucky to catch up with Alyce in the midst of all the craziness to ask her a few questions about business, personal life and of course, wine!
6Ft6: How did you two meet?
Alyce: George and I met when I looked at his kombi to buy. He didn't really want to sell it because he wanted to eventually start his own business (Hire A Kombi) with it but he said he couldn't shake the phone call he had had with me and felt like he should restore the kombi for me which is now on our fleet and called Applejack. I travelled Australia in Applejack in 2010 and then on my way through Victoria George asked me out and here we are, hitched and 2 kids on the hip.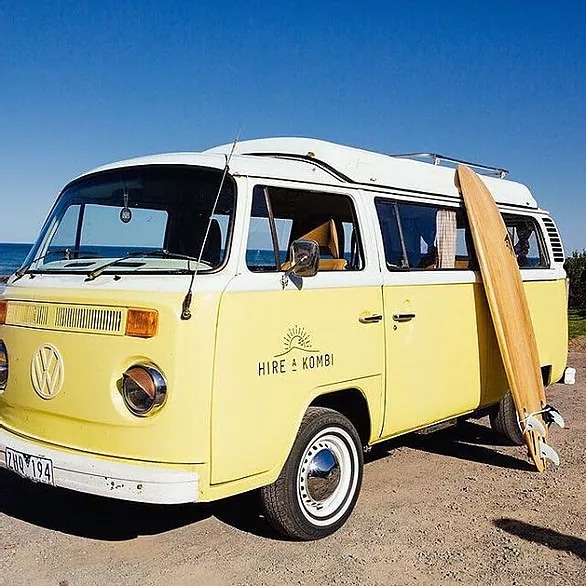 What made you come up with the concept of Hire A Kombi?
George became a qualified mechanic out of school and after a few years worked at a car rental company on the Gold Coast. He suggested to them they hire kombi's and they thought he was crazy (which he quietly is) and after not taking his advice a few years later George stopped everything to learn the ins and outs of the kombi. He wanted to slow down his driving habits and follow his passion. Literally after blood, sweat and tears Hire A Kombi was created. He worked all night, in the pouring rain, under the kombi's in the mud. He did whatever it took to get our kombi's to where they are today.
When was Hire A Kombi established?
Hire A Kombi's first voyage was in September 2012. It started with a blue dormobile called Bella and within a few months Theodore was added to the fleet for 2 families doing a trip over Christmas and it has eventually grown since then and we now have 5 kombi's and a beetle on the fleet.
Out of your collection, which is your favourite?
We don't really have a favourite. They all have their perks and flaws. George calls Gracie his baby and after adding Greta our beetle to the fleet you will have trouble prying her wheel out of my hands. I've claimed her too, ha! My heart will always belong to Applejack as he got me around Australia solo and was my little bubble of joy that never stopped ticking but I also love sleeping in Clancy and nothing beats an auto like Mango when you're pregnant and couldn't be bothered changing gears.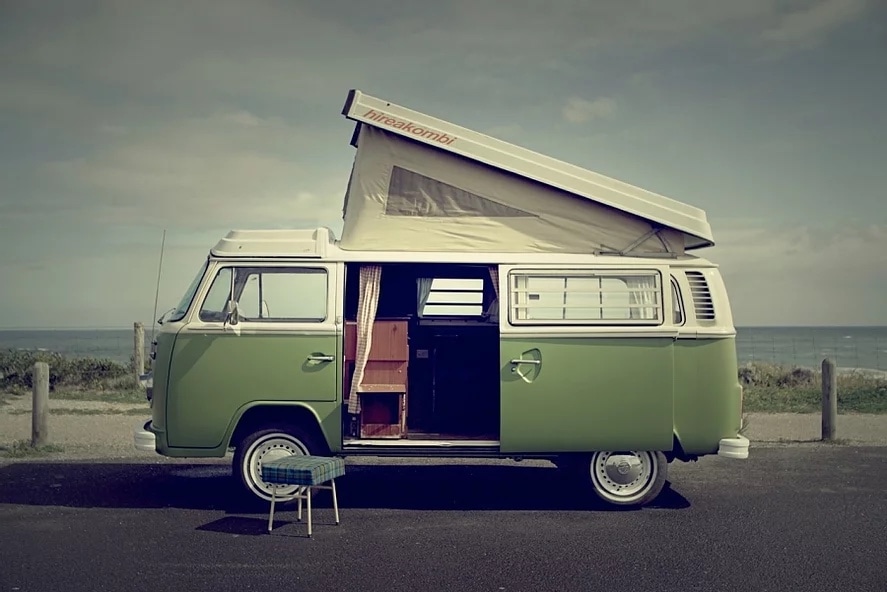 PC: Hire A Kombi
The greatest story that has come out of Hire A Kombi?
Hire A Kombi has been one crazy adventure. The whole 8 years from when George and I met to now has been a belly full of laughs, a bucket full of tears and everything in between. We have been fortunate enough to meet beautiful inspiring people along the way and while George has worked his butt off to keep our fleet going for customers to experience the joy of a kombi, it is the customers who are sharing their experience on social media and to friends that keeps us rolling and we are forever grateful of that.
The most interesting request you have ever had?
The most interesting request for a van we have had would be recently when a kombi was needed for Sexpo. To be honest we were slightly concerned at what was going to happen but Applejack went and ended up looking really tasteful parked out the front. Then of course there are those few requests for a kombi to drive to Byron Bay over a weekend. Just a small 1700km over 2 days. Kombi's are built for marathons not sprints.
The best holiday you have been on?
The Australia trip for me was definitely one I'll never forget and changed who I was. However, as a family the best trip was when we collected a kombi out west that we bought. We had an early morning flight to Queensland at a country town called Emerald, had a friend that I hadn't seen in years drive us further west to another friend from school that drove us further to Rolleston where we met Dawson a blue dormobile which had sat in the shed for almost 12 years. It's a pretty little one horse town that I had been to a few times as I grew up out in Central Queensland on a cattle property so to be back and watching George start a kombi that everyone across the road at the pub staring on, said he wouldn't be able to do, was the best fun!
He started it straight away, drove it down the road with dust flying off it and everyone cheering and raising their beer. We then drove it to my parents cattle property for Christmas where we stripped it and cleaned him up and the kids loved sleeping in his stretches every night. We cruised back down to Victoria in him and we now can't wait to add him to the fleet!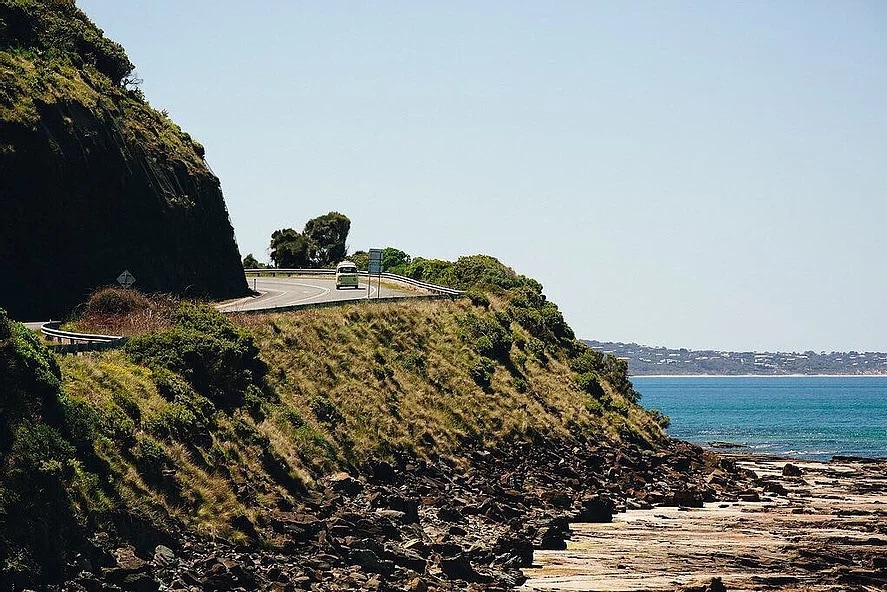 PC: Stefani Driscoll Photography
Your favourite place in Australia to visit and why?
Due to the workload we have had since starting this business we don't get to travel too much ourselves. Any chance I can get I usually use it to visit family as they're spread across Queensland, so our holidays are usually going to a wedding or visiting family. But we are actually feeling like a trip to the Kimberleys is on our list of places to go in the near future.
How do you spend your weekends?
Our weekends are much the same as our week but we do try really hard to take time out on a Sunday at least. Saturday mornings are busy with vans going out if they haven't left during the week so by Saturday night we are usually tired and want to stay at home with take out, movie and homemade popcorn but in Summer we make an effort to see what is on in the area and go to an event with the kids. We only drive what is on our fleet so a lot of the time we are stuck at home kombiless!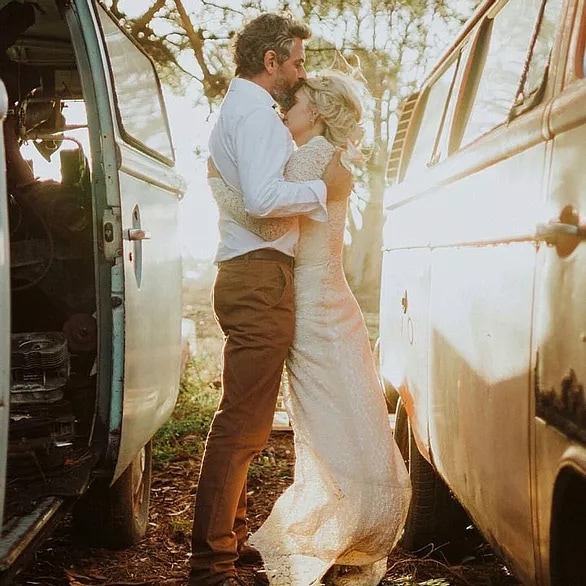 What is an interesting fact about you two that not many people would know about?
Hmm interesting about us…The fact that George restored a kombi for me and we ended up together always gets people going 'oh how sweet' and ever since the day I moved from Queensland to Victoria, George and I have worked together. It of course has had it's tough days and I'd draw a picture in his coffee to let him know how I feel, or left a scribble on paper and blue tacked it to the wall or give the finger through the window but we also really love it and can't imagine a day not working from home with the kids. Every day is one hell of a ride.
Do you prefer red or white?
Wine is wonderful both red and white, we don't drink much but when we do look out! We are the funniest, most creative, smartest, coolest dancers out there! haha
Best food and wine combination?
We believe any great dish with any great wine is a stella combination!
What advice would you give to someone wanting to start their own business?
Best advice we could give when starting your own business is stay true to yourself. Don't get caught up in what someone else is doing because that is already getting done. Do what you want because you love it and it makes you happy, not because you will be rich or cool. We love it when we meet other people in business who are genuine and kind. Also make sure it's a win win when working with another business.
For more information on Hire A Kombi and their amazing fleet, head to their website www.hireakombi.com!
To win the opportunity to create your own 4 night adventure in a Kombi supplied by Hire A Kombi to take you and 3 friends along the Great Ocean Road, buy a bottle of 6Ft6 and complete the form on our website! Good luck!!
www.6ft6wine.com