Frozen Pinot Gris Mojito Recipe
And other clever ways to pimp up your pinot gris

Pinot Gris is the the universal palate pleaser
Having trouble deciding on what to serve your white wine loving pals? –
There does tend to be two quite distinct factions of white wine lovers… The Sauv Blanc tribe won't touch a Chardonnay – some of them are still scarred from the Aussie Chardies of the 70s, which we will freely admit, were not ideal. But the Chardy lovers are more likely to switch to cider than touch a Sauv Blanc with a ten-foot pole.
So what's the solution here? Buy two different varietals? But that's going to throw off your music choices, your decor, your outfit, not to mention your menu! Nope – it's got to be one or the other… or does it?
Pinot Gris is the happy medium you've been searching for.
I'm not sure I've ever heard anyone say a word against Pinot Gris tbh… it's the unsung hero of the white wine world. A universal palate pleaser and ours is no exception.
6ft6 Pinot Gris is a fragrant beauty with ripe pear, citrus blossom notes and a little hint of spiced candy. Its juicy palate has crunchy pear and a citrus tang, with a soft acid backbone.
Oh – and it makes a mean base for a wine spritzer and other cocktails that are our drink of choice this summer season. 
So here are our three favourite pinot gris recipes to keep you hydrated all summer long.
Ready for your summer hydration?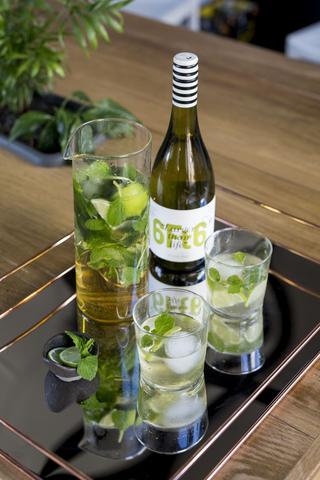 Pinot Gris Mojito Recipe 
The clean, crisp finishes from our Pinot Gris is perfect with
fresh flavours such as lime, mint and agave. If you're after
something that's not too sweet, this one is for you!
INGREDIENTS
> 2 wedges of lime
> 1/2 cup of mint leaves
> 100 ml agave or sugar syrup
> 1 x bottle of 6Ft6 Pinot Gris
> Soda water, to top
INSTRUCTIONS
1. Add ice cubes to a 1L jug
2. Combine lime, mint leaves and agave syrup in a 1L jug and muddle gently
with a wooden spoon
3. Add 6Ft6 Pinot Gris and top up with a splash of soda water
4. Stir with a wooden spoon and enjoy!
*If you like your Mojito even sweeter, try swapping out lime for a dash of coconut juice!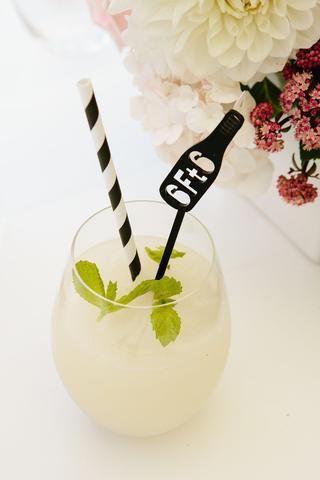 Frozen Pinot Gris Mojito Recipe
A sweeter and colder version of the fresh mojito, this recipe has been a favourite at our events in the warmer months. It's refreshing, zesty and full of wine goodness. There's nothing quite like the refreshing taste of mint and lime combined and when it is paired with the citrus blossom and pear flavours of this dry white wine, you have a winning combination. 
It is really easy to make at home, we suggest freezing the entire mixture for best results but if time is short, we have included a time saving hint for you. 
Ingredients
>  1 x 750ml bottle of 6Ft6 Pinot Gris
>  80ml lime juice cordial or fresh lime juice
>  150ml sugar syrup
>  bunch of mint
>  150ml water
>  Large mixing bowl
>  2 litre capacity tray/dish or zip lock bags
Instructions
Separate mint leaves and place in blender with lime juice cordial and sugar syrup.
Mix in water and pinot gris
Place in the freezer in a tray or zip lock bags for 4-5 hours (or overnight if you wish)
Place mixture in blender or food processor
Garnish with sprig of mint
Enjoy and share your pics on Instagram #feeling6ft6
Time saving hint – if you are low on time, simply replace water with ice cubes and blend after step 2. It may not be a thinner consistency but it will still taste amazing! Just make sure the wine is cold or pre-frozen in ice cube trays.

Perfect Pinot Gris Spritzer
A Spritzer is basically wine mixed with soda water, however we have put a twist on the spritzer with this recipe. It is absolutely delicious, a guaranteed hit!
If however it is a little adventurous for your style, you can try adding flavoured soda to your wine and add a little ice. 
Our recommendations to match with the Pinot Gris would be the grapefruit or lemon from the Capi sparkling range or simply use plain soda and add some fresh mint and lime. 
*Disclaimer – this tastes 1,000 times better than it sounds. We were dubious, but trust us, you won't look back!
Ingredients
> 90 ml 6Ft6 Pinot Gris 
> 1/2 teaspoon matcha powder
> 15 ml honey
> 60 ml ginger ale
> Ice
> Lemon wedge for garnish
Method
Dissolve matcha powder in 1-2 tbp hot water. Whisk.
Add honey and whisk until well-blended.
Add ice, Pinot Gris, and ginger ale.
Garnish with lemon and cheers!
It's popular!
Obviously there is absolutely nothing wrong with a simple glass of wine on its own its an ideal dry white wine for all seasons.
It's one of our most popular wines, there are so many 6Ft6 pinot gris lovers out there that you have made us the 4th highest selling Victorian Pinot Gris on the market!
So grab your 6 pack today and don't forget to get your 15% off with our mates rates. 
 Love these recipe ideas? Don't forget to share them on your socials.